As an employer, you know that hiring isn't exactly a walk in the park. But if you thought hiring was difficult, then you'll realize that employee retention is the real challenge.
Surely, it's hard to miss the fact that employees no longer feel the need to serve companies that do not serve them. Simply speaking, people are not shy to walk away from their jobs if they feel dissatisfied.
This means that the job markets can be highly competitive with companies struggling to retain their existing employees and attract new ones. Worried?
Well, the fact is that HR is not entirely powerless in this case. Studies show that 77% of the reasons behind employees quitting are actually preventable. You just need to find the issues quickly and address them before it's too late.
If you think your company is at risk of losing employees, you need to up your game and start implementing employee retention strategies immediately!
Lucky for you, we have compiled a list of some of the most impactful employee retention strategies in this blog! But before we get to that, let's understand why employee retention is important. Let's get started!
Why Employee Retention is Important?
1. It Reduces Cost
U.S. businesses currently experience a cost of roughly $1 trillion in voluntary employee turnover. This means that they spend a lot of time and money finding and recruiting employees. And costs come in various forms such as advertising, interviewing, onboarding, training, and more. In short, it's costly to lose and replace an employee.
By focusing on employee retention strategies, you can easily cut down these costs and focus on improving the existing employees' skills and abilities. This can not only save your company thousands and thousands of dollars but also help improve the overall productivity and engagement of employees, which thereby improves your organization's revenue.
2. Improves Employee Morale
An employee's experience in an organization hugely contributes to their performance and morale. With a positive experience, employees will be able able to contribute better to the organization and themselves. By incorporating a solid employee retention strategy in place, you can help boost morale, establish better connections, improve productivity, and foster a healthy working environment that will encourage employees to stay longer.
Read More: Boost Employee Morale with these Effective Tips!

3. Develops Employee Expertise
One of the most striking advantages of implementing employee retention strategies is that it develops employee expertise. The fact is that the longer your employee stays in the organization, the longer they have to develop their expertise. This means that they will have the ability and time to grasp the functioning and nuances of the company and contribute to it effectively. Additionally, the longer an employee stays at a company, the more value they offer in growing and expanding your business.
4. Offers Better Customer Experience
A customer's experience is based on their interactions and dealings with a business and its employees. If employees are happy and satisfied, it will immediately translate and reflect in their interactions with customers. So with employee retention strategies, you can be sure that employees will have better engagement levels and expertise in handling customers. This will lead to better customer service and improved customer satisfaction as well.
5. Better Employee Engagement
There's no denying that better employee engagement means better employee retention. In fact, studies show that employees who are highly engaged are 1.8 times more likely to say they will be working at their current organization a year from now. And with better employee engagement, there comes lower absenteeism, greater loyalty, better employee health, higher employee satisfaction, and higher profitability.
In short, employee retention strategies are integral to the personal and professional growth of employees and the expansion of the organization. So let's find out what some of the best and most impactful employee strategies you can implement to boost your business!
9 Employee Retention Strategies That Are Vey Impactful!
Strategy 1. Start with Onboarding
Kickstart your employee retention strategies on the employee's first day through onboarding. After all, onboarding is what makes an employee ease into the company environment. No one wants to feel confused and out of place from day one.
With a smooth onboarding process in place, you can teach your new employees about their job, roles and responsibilities, the company culture, and how they can efficiently contribute to it. One of the best ways to ensure an impeccable onboarding process is by creating an onboarding checklist with all the necessary steps.
Doing this will set the tone for your employee's entire experience, ensure that they feel welcome, and improve their trust in the company.
Read More: How to Ace the New Hire Onboarding Process?
Strategy 2. Invest in Employee Growth and Development
Your business will never grow if you don't provide opportunities for your employees to grow their professional skills and develop their careers.
A study by LinkedIn showed that 94% of employees say they would stay with their company longer if it invested in their career development. This means that employees are looking to hone their skills, gain knowledge, and move up the ladder to better positions. So make sure to invest in your employee's professional growth and provide them with opportunities to advance their careers.
Your employee retention strategies can include mentorship programs, online professional courses for upskilling and reskilling employees, training and development programs, leadership-building courses, and other options that allow them to sharpen their skills and knowledge. You can also offer promotions and upward mobility within your organization if your employees have been performing well and putting in the effort.
Strategy 3. Recognize Employee Contributions
How often do you acknowledge and recognize the contributions of your employees? While you ponder on that question, here is a fact – recognition increases employee engagement, productivity, and performance by 14%.
In fact, 68% of HR professionals say that recognition was important for retention, however many organizations lack formal recognition programs. So if your company is not valuing or giving recognition, then it's time you started.
Start by celebrating your employees' achievements and accomplishments, irrespective of how big or small they are. Express your gratitude via shoutouts, thank you notes, or public acknowledgment. You can also set up formal reward systems where you offer monetary benefits such as additional bonuses, financial incentives, etc.
This is a great employee retention strategy as it sets the tone for your company culture and work environment and drives employees to actively participate and contribute to your company's goals.
Strategy 4. Reassess Compensation
Let's face the facts – most employees are working for your business primarily because they need the money. If an employee feels that they're inadequately compensated for their work, then will simply quit. This is why a competitive compensation package must be a fundamental element in a company's employee retention strategy.
Regularly reassess your compensation concerning the industry standards and offer attractive compensation packages that will draw employees to your company while keeping the existing ones fully satisfied. Don't be shy with spot bonuses or wage increases once in a while to make sure that employees feel valued and motivated.
Strategy 5. Provide Benefits Packages and Incentives
We talked about offering competitive compensation packages as an employee retention strategy, and the next best thing to offer your employees is attractive benefits packages and winning incentives.
This is because nearly 6 in 10 employees agree that a company's benefits package is the most important non-salary factor they consider when assessing a job while 85% of workers feel more motivated to do their best when an incentive is offered.
So try to include benefits such as lower employee healthcare premiums, referral programs, tuition reimbursements, profit-sharing, increase paternal leaves, gym memberships, extra paid time-offs, and other attractive incentives that will keep your existing employees happy while drawing in newer ones.
Strategy 6. Provide Flexibility
Flexible is not just another buzzword that is going to die down. It's something employees value a lot and even consider a major factor when searching for jobs. A survey found that one-third of employees would look for a new job if required to return to the office full-time.
This is why you must prioritize remote working options as an employee retention strategy. Provide your team with the right tools and software to work from home in the best way possible. Using a workplace collaboration platform, like Bit.ai can help your remote team create, collaborate, share, track, and manage all company information in one place.
With Bit, you can create smart workspaces around projects, teams, departments, and clients to collaborate and ensure that the right team members have access to the right documents at the right time. Bit also ensures that you and your remote team have open communication and discussions via group chats, one-on-one chats, comments, @mentions, and more.
While it's true that some jobs cannot be done remotely, giving a hybrid option whenever possible can go a long way in offering flexibility to such employees.
Also, giving employees the freedom to work on their own time and schedule can boost satisfaction and help them complete their jobs without compromising on their personal needs.
Strategy 7. Prioritize Work-Life Balance
There's no denying that no employee in this world would want to slog their hours away working all the time. After all, all work and no play make jack a dull boy. This is why it's important to prioritize a work-life balance.
You can give employees a flexible schedule and remote working opportunities, but it would all become pointless if they still have a truckload of work to do. So you must check in with your employees to ensure that you are not dumping them with an unachievable amount of workload. Try to create a work environment that allows open lines of communication about workloads.
Another way you create a balance is by cutting down on the number of unnecessary meetings and administrative duties that eat up employees' time. Also, make sure that employees don't receive any work emails or calls after their business hours.
Remember, employees have lives outside of their work, so encourage them to set boundaries, urge them to take day-offs and time-offs, and provide opportunities for them to go on vacations to relax.
Strategy 8. Foster a Healthy Work Culture
While talking about employee retention strategies, managers tend to overlook one of the most striking factors – company culture.
Why? Studies show that 77% of workers consider a company's culture before applying and nearly half of employees would leave their current job for a lower-paying one at an organization with a better culture. So it's important that you build a company culture that employees want to be a part of.
A healthy work environment that supports open lines of communication and transparency while providing employees with everything they need will go a long way in nurturing deep connections and relationships within the company.
Strategy 9. Support Employee Wellbeing
Ever heard of the term 'burnout'? If you haven't then you should know that an alarming rate of 76% of employees experiences burnout on the job. It results in a lack of energy, feelings of isolation, negative emotions, and more. This results in employees quitting their jobs.
So as a manager, it becomes your duty and responsibility to take care of and support your employees' well-being. Make sure that your employees are mentally, emotionally, and physically fit to perform their jobs. You can provide wellness offerings, stress management, programs, fitness classes, mental health support, insurance coverage for treatments, and more.
When you put in the effort and take action to support employee well-being, it shows that you care for them. This will make them feel valued and hence likely to stick with your company for a longer time.
Read More: 10 Effective Ways to Create Happy & Collaborative Work Culture!
Wrap Up
The truth is that no matter what, some of your employees will leave your organization sooner than you like, but the least you can do is make them see that you value and support them.
We hope that the employee retention strategies mentioned in this blog can help improve your employees' job satisfaction and make them stay in your organization for a long time. Just make sure that you continuously re-evaluate efforts and take proper feedback regularly so that you are always updated.
Show some love to your employees and they are bound to stick with you and support you even if they do leave! Ciao!
Further Reads: 
13 Tips to Empower your Employees!
Best Employee Onboarding Tools Out There!
Top Employee Management Systems You Should Be Using!
What is Employee Training? Importance & Tools to Use!
Employee Training Software and Tools for Efficient Employees!
Employee Development Plan: What is it & How to Create it?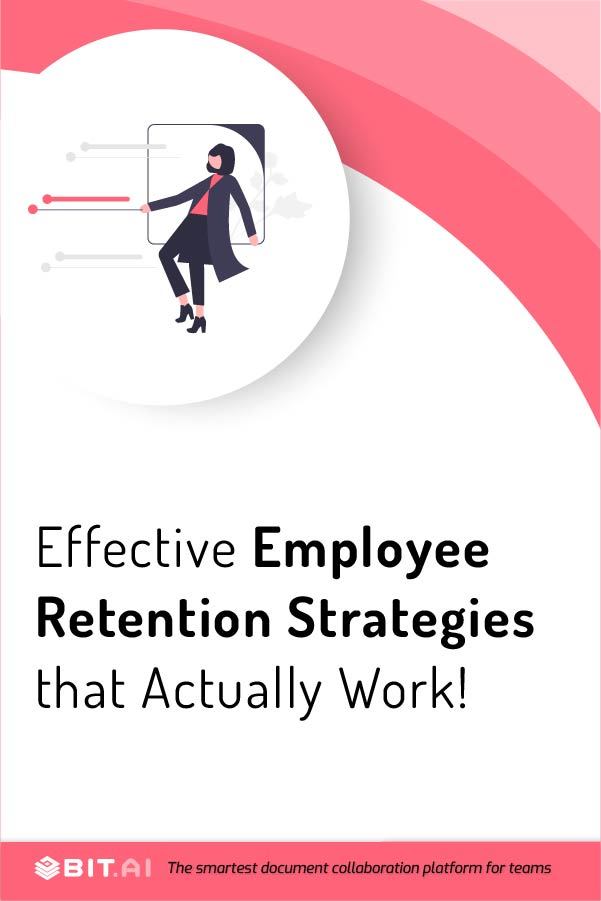 Related posts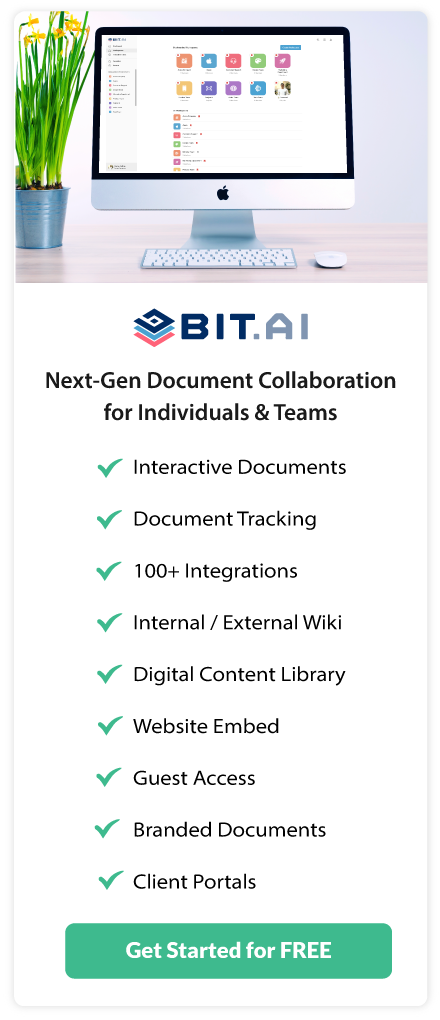 About Bit.ai
Bit.ai is the essential next-gen workplace and document collaboration platform. that helps teams share knowledge by connecting any type of digital content. With this intuitive, cloud-based solution, anyone can work visually and collaborate in real-time while creating internal notes, team projects, knowledge bases, client-facing content, and more.
The smartest online Google Docs and Word alternative, Bit.ai is used in over 100 countries by professionals everywhere, from IT teams creating internal documentation and knowledge bases, to sales and marketing teams sharing client materials and client portals.
👉👉Click Here to Check out Bit.ai.