"Sales is not just about selling, but about building trust and educating." – Siva Devaki
Rightly so, the sales manager who leads this pillar of your firm needs to be sharp-witted, passionate and someone who can lead with optimism.
Because a sales manager is that crucial position in any firm that adds a lot of value to not only revenue generation, but customer loyalty too!
But, before you can interview the right candidate, you'll need to draw them in with a job description that has compelling details about your firm, the roles and responsibilities, and more.
Every sales manager job description should focus on attracting a candidate with the right interpersonal skills and the right attitude. It should be easily comprehensible and be curated in a manner that best reflects what you expect from them.
Let's learn more about a sales manager job description is and how you can create it…
What is a Sales Manager Job Description? (Definition)
A sales manager is primarily someone who manages the sales at a firm. They find unique ways to sell the products/service and engage with the target audiences in exciting new ways.
A sales manager would have a direct impact on the revenue generation of any firm. From directing other sales representatives to finding leads and more, a sales manager does it all.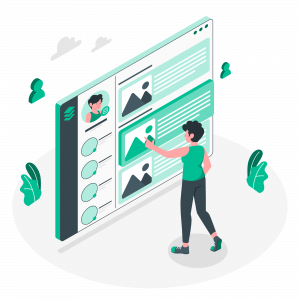 A good sales manager job description will reflect all this including the responsibilities of the sales manager and what perks come with the position.
But before you can hire a fine sales manager, you will have to create a sound sales manager job description, and we're here to help you do just that!
Let's delve a little into the benefits of a good sales manager job description.
Only when you can list down what you expect from your to-be sales manager in the job description, those expectations and qualifications can be met!
If the description is perfectly curated, it'll only attract those candidates who most closely match the needs of the position.
It will lead to better streamlining of the selection process.
It will limit arbitrary interpretation of the role.
Now that we know what a sales manager job description is, let's learn how to create one!

How to Write the Perfect Sales Manager Job Description in 6 Steps?
Step 1. Short & Engaging Overview
Be concise and be brief. Give an overview of the sales manager position in 4 to 5 sentences. Talk about how the sales manager position is a coveted position and one that drives your company to its fullest potential.
Mention that apart from managing other sales reps and coaching them, it's a position that deals with the invaluable part of your company; the customers.

Be invitational and ask the reader to "put their creative hats on" and apply for the sales manager job and show the firm what they can offer.
Read more: Sales Resume: What is it & How to Create One to Woo Recruiters!
Step 2. Who's your Ideal Candidate
To make sure that the candidates that apply align with the qualifications you're specifically looking for, this part is extremely vital. Create a section that defines your target sales manager applicant. For example:
Minimum experience should be 5-10 years
Educational qualifications should include a management degree.
Should be a team player.
Needs to have great interpersonal skills.
High-level proficiency with MS Office.
Ability to work under high pressure and deadlines.
Tip: Use the current sales reps in the firm to understand what skills a sales manager might need during their tenure.
Step 3. Avoid Extremities
Stop focusing on a narrow set of skills and broaden your horizons to find an all-arounder sales manager. Do not use superlatives like 'best of the best', which could potentially turn away a lot of great talent.
Not everyone identifies themselves with such terms and would sound off to people who would possibly be perfect for this position.
Don't inflate the qualifications needed to complete basic requirements. It is best to mention the minimum qualifications and preferred skills. Simply put, be realistic.
Step 4. Roles & Responsibilities 
Defining all duties the applicant would have to fulfill is a great way to acquaint them with the position. The topmost priority of any sales manager would be to meet deadlines and lead the team to do the same.
In simple terms, a sales manager would come across three key roles, being people's, business's, and customer's manager. That is, leading a team, steering the business's revenue streams, and managing customers.
Make sure you talk to the hiring team, the sales reps, and other managers before curating the perfect list of responsibilities tailored for your business specifically.
Step 5. Focusing on Work Culture
From a candidate's perspective, they'd like to know about the work culture that your company offers. You need to showcase a glimpse of what it would be like to work at your firm and let the description reflect that.
Do not use gender-specific pronouns and show how diverse your company is. Add some humor and warmth in your language rather than being strictly formal.
Let your company's personality shine through this description and reach the potential applicant.
Step 6. Communicate the Value of the Position
A sales manager is a pivotal part of any organization. They drive your company to success in many ways and this value needs to be communicated.
The value you offer is beyond salary, it is in the growth opportunities, the work-life balance, and more. Make sure they know that through this description.
The better the communication, the more will be the motivation to apply.
An Example of Sales Manager Job Description
Here's an example that will give you an idea about how a sales manager job description needs to be written:
Acma Company was established in 2005 and we aim to provide customers the best cleaning services. Our high level of services has made us a household name and we're now looking for someone who can steer us even higher. Some of our many esteemed clients are Company A, B & C.
We're currently searching for a sales manager with over 5-10 years of experience, who is flexible with traveling and can handle our other sales reps and guide them. Compensation for the same will be decided as per the skills and interview held with the applicant.
Roles and Responsibilities:
Working and leading a team of 35 people.
Building and promoting strong, long-lasting customer relationships.
Hitting given sales targets successfully.
Mapping potential customers and generate leads for the firm.
Requirements:
Bachelor's degree in management or marketing.
5-10 years of experience.
Exceptional verbal and communication skills
Ability to forecast huge sales volumes.
Highly energetic and a people person.
Has a competitive edge.
If you are a hard-working professional, we're more than happy to welcome you…so why wait? Apply today!
Our team at bit.ai has created a few awesome templates to make your hr process more efficient. Make sure to check them out before you go, your hr team might need them!
Conclusion
You are now ready to create your perfect sales manager job description. Hiring the right sales manager is an art and it begins with curating the right job description.
Use the tips we've mentioned above and you will be on track to hiring a great sales manager and developing a high-performing sales team!
Got any queries? We'd happy to solve them. Just tweet us @bit_docs and we'd get back to you.
This blog post has been written by the Bit.ai team. Bit is a document collaboration platform where you can create, organize, and manage all your company knowledge in one place. It also enables you and your team to collaborate together in real-time by co-editing, making inline comments, @mentions, and much more. To know more about this amazing platform, visit Bit.ai
Further reads: 
How To Write An Awesome Job Description?
11 Awesome Sales Management Tools That Your Business Needs!
Upselling: What is it and How to do it Effectively?
11 Amazing Sales Promotion Examples You Need to Check Out!
How to Write an Unavoidable Job Offer Letter?
How To Write An Awesome Cover Letter To Woo Your Recruiters!
Sales Pitch: What is it & How to Create a Killer One?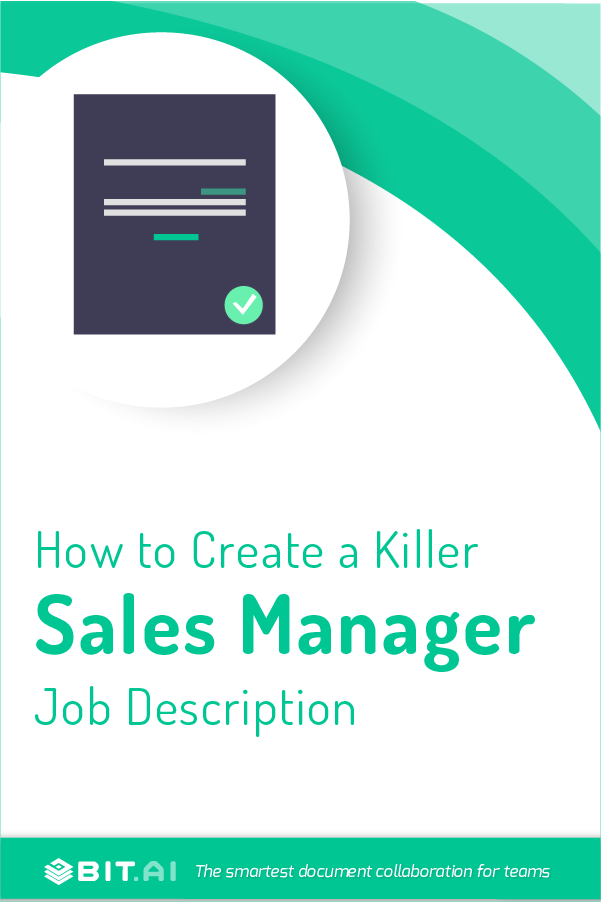 Related posts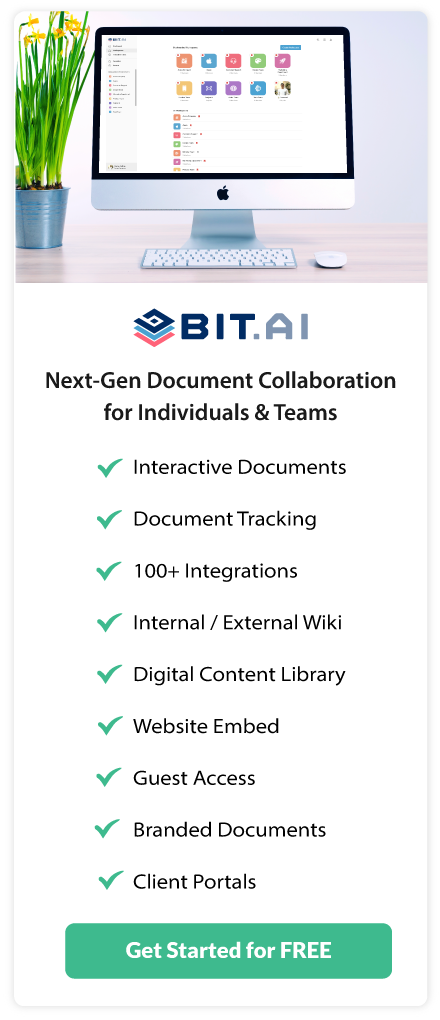 About Bit.ai
Bit.ai is the essential next-gen workplace and document collaboration platform. that helps teams share knowledge by connecting any type of digital content. With this intuitive, cloud-based solution, anyone can work visually and collaborate in real-time while creating internal notes, team projects, knowledge bases, client-facing content, and more.
The smartest online Google Docs and Word alternative, Bit.ai is used in over 100 countries by professionals everywhere, from IT teams creating internal documentation and knowledge bases, to sales and marketing teams sharing client materials and client portals.
👉👉Click Here to Check out Bit.ai.