Below are our picks for the best document collaboration tools on the market. Read on to find out which one of top 6 document collaboration tools suits your needs and why you should be using a document collaboration tool in the first place.
If you want to go fast, go alone. If you want to go far, go together. ~ African Proverb
Teamwork is the foundation of any business.
No matter if you are an e-commerce giant like Amazon, a fashion powerhouse like Zara or a small mom and pop store, teamwork is one of the most important skills that can easily make or break your business.
About 75% of employers rate teamwork and collaboration as "very important" for their business.
Getting your team to work towards a common goal encourages creativity and provides a sense of community amongst the employees. When people have common goals and interests, it creates an unmatched synergy that can outperform any organization.
COLLABORATION IS GOING VIRTUAL! TOOLS TO ENHANCE PRODUCTIVITY?
Did you know that remote work is rapidly becoming the future of work?
According to the New YorkTimes, telecommuting is fast on the rise. According to statistics from the American Community Survey, telecommuting has risen 79 percent between 2005 and 2012. (Source: nytimes)
The shift towards remote working is an obvious one for businesses to run efficiently:
It helps minimize office finances like rent, stationery, utilities, etc.
It helps save commute time for employees, which result in higher productivity.
It reduces the need for unnecessary office meetings, watercooler talks, and politics.
More companies are getting sold on the idea of remote work.
Earlier this year, Automattic, the company behind WordPress, closed it's 15,000 sq feet San Francisco office because their 'employees never showed up.' Automattic gives its employees a $250/month stipend to spend on co-working spaces or for coffee at Starbucks! (Source: Qz)
DOCUMENT COLLABORATION TOOLS
This shift towards remote working has lead to the rise of many online document collaboration tools that can help your remote teams work like they in the same room.
According to a report published by McKinsey, knowledge workers spend an average of 14% of their work week communicating and collaborating internally. The study also showed that improving internal collaboration through social tools could help raise the productivity of interactions by as much as 20 to 25 percent. (Source: Mckinsey)

Document Collaboration tools have a lot of benefits. Some of these include:
Increased productivity
Brainstorming ideas
Faster problem solving
Enhanced creativity
Faster execution of ideas
Builds a sense of community
Document collaboration tools allow team members to view, edit and work simultaneously on a document without sending emailing attachments to each other all day.
Did you know that teams can create documents 33% faster with a document management tool that cuts out the need for attachments? (Source: Highq)
According to Econsultancy, workers send and receive about 15 emails that include attachments per day.
Over 59% of managers miss vital information simply because they can't find it or never see it. (Source: Linkedin)
Document collaboration tools are critical for working together, streamlining workflows and eliminating inefficiencies.
Let's dive into our hand-picked list of the best document collaboration tools on the market!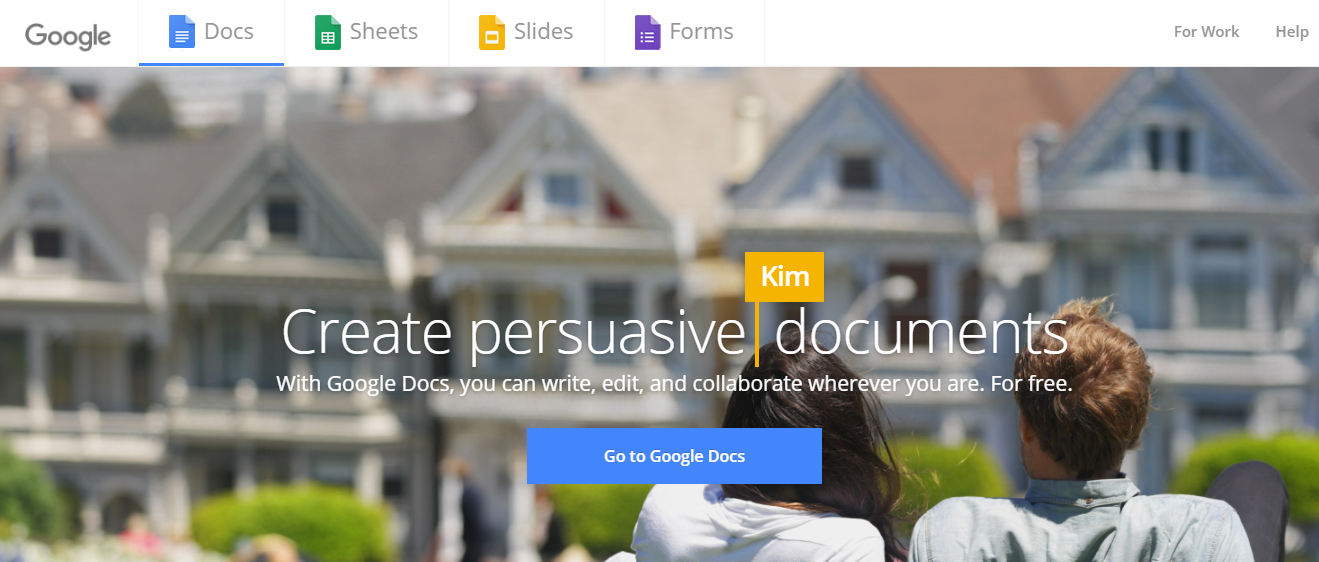 Google Docs is a free cloud collaboration product by Google. Once you create a Google ID or Gmail account, you can get started using Google Docs.
One of the best things about having your documents on the cloud is that you can access your files on any device. You won't panic if your laptop goes down!
If you're familiar with Microsoft Word, Google Docs will feel familiar to you. It has a top bar filled with all of your editing and formating buttons that you're familiar with.
Google Docs has collaboration built-in, making it easy for your team or clients to collaborate. Once you create a document it's easy to sharing it with others via email or a shareable link.
Google provides 15GB of cloud storage on their free plan. You can always upgrade to a paid account if you need more storage.
You can work on a document with your teammates simultaneously over the cloud, give them access to edit or make it as a 'view only' doc, and leave comments in real-time.
Google Docs is a great collaborative document tool for small teams. With larger teams, sharing permissions on a document and folder level become difficult to manage as your team grows.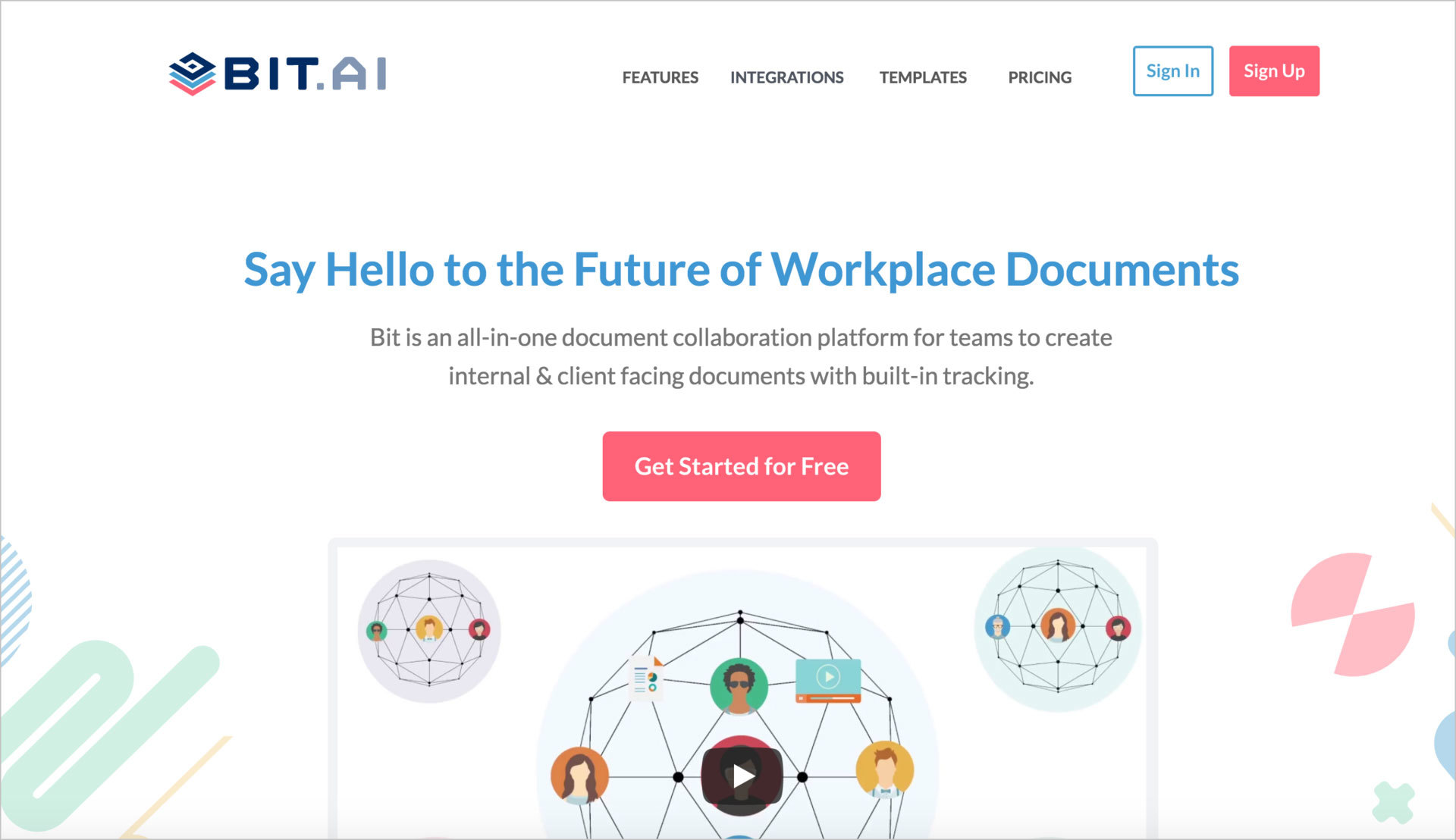 The new kid on the block and one of the most feature-rich tools on this list is Bit.ai. Bit is a new age cloud-based document collaboration tool that helps teams create, manage and track documents.
Bit helps you make sure your documents are more than just plain boring text. Thus, apart from allowing multiple users to collaborate on documents, Bit also allows users to share any sort of rich media like YouTube videos, SoundCloud Playlists, Google Docs, One Drive Excel Spreadsheets, GIFs, Tweets, Pinterest boards, etc. Basically, anything on the internet with a link (i.e. www.example.com, https://example.com) can be shared and Bit will automatically turn it into visual content.
Just copy-paste the URL of your content and hit enter. Bit, then generates a live preview of your digital content within in your document.  Imagine how rich and interactive your smart documents can become.
In addition to adding rich embeds and content, you can also add files inside of your documents. It allows your reader to reference additional documents they need to sign, download, store or access. Bit allows hundreds of various file types to be added to your documents.  No more hunting through email attachments to find the right document.
Bit has a very minimal design aesthetic to it, but it's feature rich and helps teams rethink the way they work.
It's even includes an ability for users to track engagement levels on the documents they share. Users are able to see who has accessed their document, how frequently, how much time they spent on it, how often they have returned to it and how far through the document they scrolled, along with other great engagement metrics.

Here are some additional features Bit provides:
Create professional looking docs quickly with Bit's pre-made and professional looking templates.
Easy customization– just highlight the text and Bit give you the ability to bold/italicize text, create a checklist, numbered list, add quotations, and headings for better understanding.
Content Library that automatically saves the images, files and digital content you add to your documents so that you can access and reuse them easily.
Smart search allows anyone to search and find any files, images, documents etc quickly and easily across all of their workspaces. Users can search their digital assets using keyword, titles, descriptions, or tags. They can even search files based on its source. (i.e., YouTube).
Smart workspaces are created around projects, teams, departments and clients to keep your documents organized. Workspaces make it easy to collaborate and ensure that the right team members have access to the right documents.
The ability to tag and comment on a shared document allows team members to collaborate and work together effectively.
Automated table of contents created based on your header 1, header 2 and header 3 usage on your document.
Shared documents come with the option to include a lead capture form. In order for your recipients to access the documents, you can require they fill out their name, company, email and/or phone number.
All shared Bit documents offer document destruction and allow users to remove access to a trackable document by a specific date.
Users can also make their documents password protected.
All settings of a trackable document can be edited at anytime and update in real-time with your audience.
Includes personalized branding on your documents, along with your own custom subdomain so your shared document URLs include your company name.
Bit documents are fully responsive and can be accessed on any device.
Bit documents can be used for both internal and external use documents.
One of the most impressive parts of Bit is that it's collaborative and can work with any size team. Teammates can collaborate on the documents. Documents can move through normal work flows in your company easily and fluidly. For example if a marketer comes up with an idea after doing competitor analysis, they can loop in with his/her manager, bring in a sales manager to the document. Collaborate on how to tackle it and once approved can move the Bit document to collaborate with the design team, finalize the copy and get the final copy ready for approval from their manager, the sales manager, legal and the executive team.
Bit is creating the future of documents for you and your team so you don't have to rely on multiple tools. It's the smartest way to create, manage and track your document all from one place.
Collaboration Tool #3: Zoho Docs

Just like Google Docs, Zoho Docs also provide tools to create documents, spreadsheets, and presentations, right in the cloud.
Zoho Docs make document creation, storage, editing, sharing, and collaboration a breeze. Apart from your documents, spreadsheets and presentations, you can even upload your music, movies and other files to the Zoho cloud and basically take your office wherever you go. Zoho cloud offers 5Gb free storage space. You can even sync your Windows, Mac, or Ubuntu Linux computers to the cloud and vice-versa and access your files on any computer, both online and offline.
Users also have the ability to organize their files by teams, projects, file types, and authors which makes it easy to access the files quickly.
With Zoho Docs, you can create folders to organize all your documents more effectively. You can even create team groups and share files privately.
Users can set permissions, password protect your files, or even set an expiration timer after which everyone loses access to the file or document. Zoho Docs also provides the ability to chat with collaborators in real-time to make document editing easier.
Integrations with other cloud services like Google Drive and Dropbox adds a little more flare to Zoho's offerings.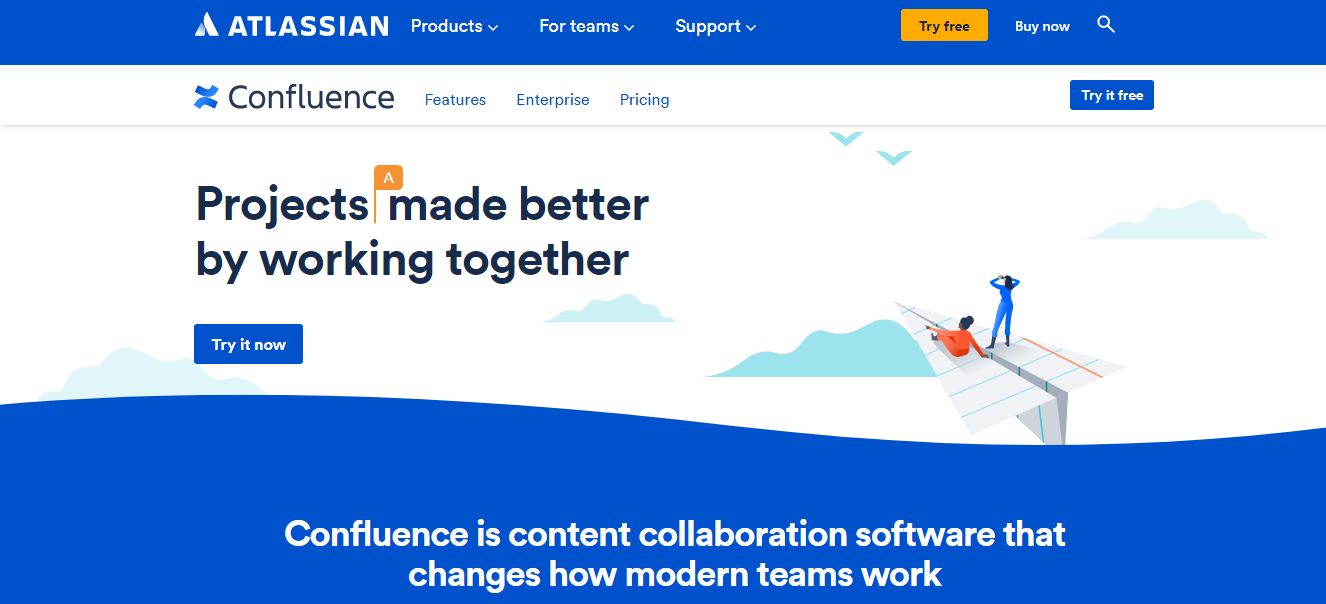 Atlassian Confluence is a document collaboration software for teams to communicate internally.
Confluence allows teams to easily create, share and collaborate on documents, spreadsheets, presentations, and images. Tracking project progress is a breeze in Confluence.
Team members can share PDFs, docs, images, track every version and changes made to a page, and connect to Jira to provide insight into their development work with automatic linking, quick issue creation, and reports.
With the ability to add inline, file and page comments, you can easily leave feedback without getting lost in your email threads or chat messages. Team members can pin comments on the shared file, add their suggestions or feedback, and can edit office files right from their Confluence dashboard.
Users have the ability to organize and share company information amongst employees and with their customers.
Confluence offers two "power" add-ons, Confluence Calendars and Confluence Questions.
Confluence Calendars adds a central source of truths by offering a single calendar for the entire team. The calendar allows teams to keep track of who's on leave and for how long, what events or projects are coming up, and switch between four calendar views, list, week, month and timeline. Users also have integration options with Google Calendar, Outlook, and iCal. Confluence Calendars cost $10/month for a team of 10.
Confluence Questions, on the other hand, lets team members ask, vote on, and answer questions collaboratively. All the content posted is searchable to avoid users asking same questions again. Team members can earn points for answering questions and can even earn an "expert" status. The gaming angle makes it fun and encourages people to collaborate and help solve queries. Confluence Questions add on also costs $10/month for up to 10 users.
Confluence is a great collaboration tool, especially if your team already uses Jira and HipChat by Atlassian, as it's designed to work with those platforms.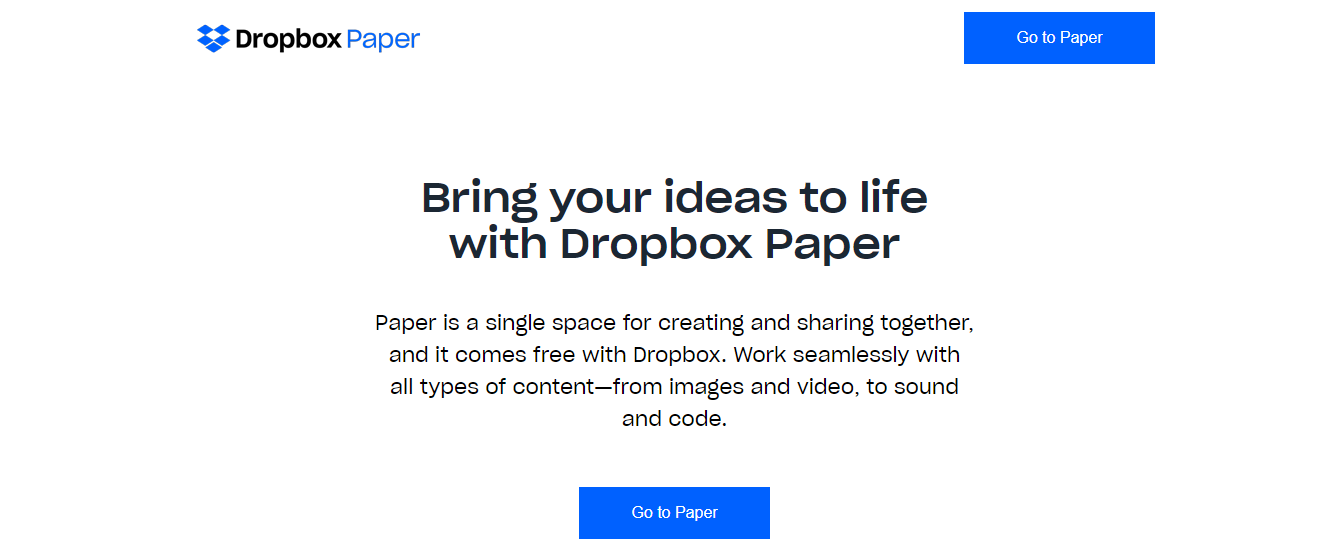 Dropbox Paper is a document collaboration editor focused on design teams to collaborate internally.
It allows you to add rich media along with text and images to collaborate and work on projects with your team. Add Dropbox files inside the document, YouTube videos, social media posts and more.
You can easily share a document with someone or add a collaborator by simply clicking the "share" button and invite them to view or edit the document via a custom link. You can also create groups and share documents with your teams, so no one is left behind.
Users can share files individually or by creating groups, manage access to documents, assign tasks to a team member with @mentions and give feedback in real time.
Dropbox paper has taken time to create custom stickers to add personality and humor to the conversations you have with your teammates.
Dropbox paper is powerful, yet a light-weight alternative to Google Docs and does a good job of being an online collaborative workspace for teams to work internally.
Collaboration Tool #6: Quip

Quip is a team collaboration and communication tool that lets teams create and edit live documents and spreadsheets. Quip sets out to eliminate email threads from your work life by providing chat rooms and discussion threads for each document.
Users can attach a document or a spreadsheet to a chat and then review and edit it together. With Quip, teams can create, discuss, and organize their internal work. It even connects your SalesForce account and integrates your data with Quip's live documents and spreadsheets.
Team members can access central hub for all their documents and spreadsheets which are constantly up-to-date with everyone's edits. If you don't want everyone to access a group, file or folder, you can set permissions for the same.
Quip was created to be mobile first and offers dedicated Android and iOS apps to take your work with you wherever you go.
And that's all folks!
Remember that you want to choose a document collaboration tools that makes your life easier, increases productivity and also works well with your team, workflow and company.
Sometimes the easiest thing we can do is stick with what we know, but sometimes taking a leap is exactly what we need to jump into the future.
Are there any document collaboration tools we missed? Which tool do you use to make collaborations easier? Do share with us in the comment section below
If you have another tool that deserves a review and a mention here send us an email.
Don't want to forget this information?
Pin this list of "top document collaboration tools" for your future reference!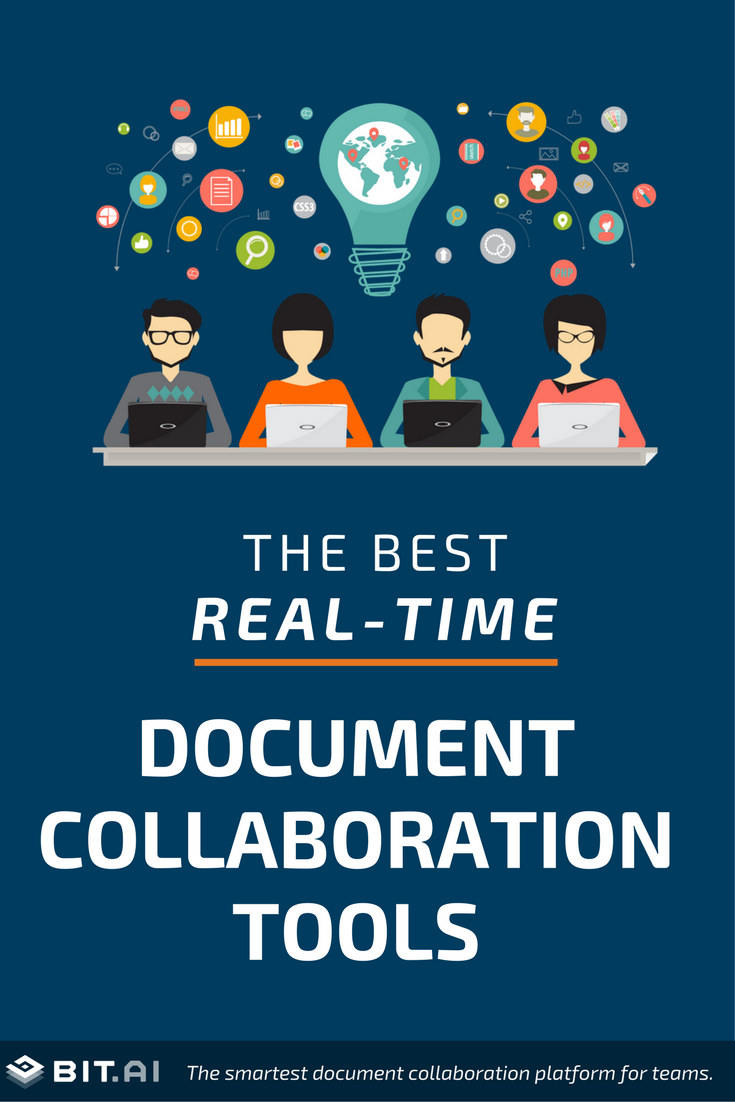 Related posts