Every project plan or proposal has a project summary that condenses the entire project into a single page. It's the perfect document to communicate important information to stakeholders, clients, and employees.
And since it's the first thing that a reviewer is likely to read, it's needless to say that it's one of the most crucial documents in project management.
After all, a project summary is the best chance you get to capture your readers' attention and convince them about the quality of your project.
If you're here, then it's likely that you want to know more about project summaries. And you have come to the right place for that!
In this blog, we will help you understand what a project summary is, why it is important, and the steps and tips to write one!
So what are you waiting for? Dive right in!
What is a Project Summary? (Definition)
A project summary is a document that contains a concise, comprehensive overview of an entire project and its key details. It usually consists of a project's objectives, background information, requirements, problems, analysis, and conclusion.
A project summary is typically the first element written in your project proposal, but it is sometimes written last, after writing the project descriptions. This is done to avoid any inconsistencies between the two.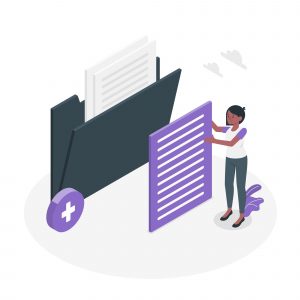 Since a project summary is one of the first things a person will read, it is the perfect place to grab your reader's attention and convince them of the quality of your research. Hence, it is also one of the most important parts of a proposal.
Why Should You Create a Project Summary
A project summary is vital because it gives everyone a big-picture view of the entire project and its important points through a brief description that covers the overall project's goals, limitations, task schedules, budget, and lots more. Doing this ensures that everyone involved in the process knows the entirety of the plan.
It is needless to say that a bad project summary can lead to a bad impression and turn off the reader because the primary goal of writing a project proposal is to sell the proposal to their reader and get them excited to read the entire proposal.

In addition to this, writing a project summary also comes with benefits that you just cannot overlook. A project summary:
1. Improves Clarity
Writing a project summary makes you compress all the pages-long information about your project into a single page, where only the most essential details and elements are highlighted. This provides you with a better understanding of your business and increases clarity to pitch your project effectively to the readers.
Read more: Project Charter: What is it & How to Write it Perfectly? (Template Included)
2. Acts as Roadmap
A project summary will act as a roadmap to quickly guide you through the various steps and stages involved in your project. It helps keep your team updated about the project lifecycle and offers crucial updates to project stakeholders.
3. Saves Time
With a project summary in hand, you will always have a handy document to present your project to your internal or external stakeholders.
And since this document condenses all key information into a single page, it makes it easier for the readers to go through it without wasting too much time. Thus, it helps save you and your reader's time.
What to Include in a Project Summary
A typical project summary summarizes the entire project proposal in a page or two. However, an excellent project summary covers all the important elements and information in a comprehensive and concise manner.
What are these elements to be included in the project summary? Let's take a look!
1. Introduction
Start your project summary by introducing your project and including basic project details, such as company name, project name, project ID, project phase, current date, launch date, etc. Here, you can also indicate the project team members and their contact information as well.
2. Overview
Give a brief overview of your project, its goals and objectives, and its benefits. Describe what you are offering or seeking to accomplish with the project, why you're doing it, and how exactly you are planning to approach it, in a crisp and concise manner. If you are using your project summary for external purposes, then you can also include a project background as well.
Read more: 10 Best Project Planning Software List with Pricing!
3. Risks and Challenges
Projects are prone to risks and challenges that are bound to surprise you along the way.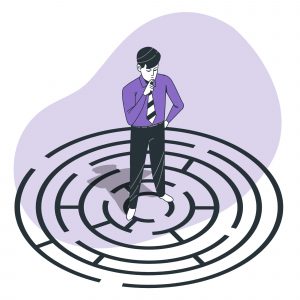 Hence, every project summary should briefly include a section addressing the potential project roadblocks, risks, and challenges that might arise during the course of the project.
4. Project Timeline
Project timeline is the chronology that a project follows. It includes all the dates, events, and important actions that provide you with an update of your project milestones and deliverables. Your project summary can include a section that briefly outlines your project's timeline.
5. Rich Media (Optional)
Although it may be optional, your project summary is allowed to include rich media, such as graphs, charts, images, etc. to entice the reader to continue reading.
Now that you know what exactly is included in a project summary, let's go over how exactly you write it.
Read more: Project Management Schedule: What is it & How to Create it!
How to Write a Project Summary? Follow these steps:
Step 1. Discuss With Your Project Team
Don't consider writing project summaries as a solo task. Meet up, discuss, and brainstorm with your project team about what details and elements need to be included in the project summary. When you put your heads together for ideas, you can definitely create some of the best project summaries ever!
Step 2. Identify Your Audience
Who your audience determines how your project summary will look like. So it's crucial that you identify your target audience. Are you writing for your clients? Stakeholders? Project team? Based on this, you can write a project summary that is geared towards their needs and preferences.
Step 3. Establish Objectives
Once you have your team together and have identified your audience, the next step is to establish your goals and objectives and determine your key project milestones. Make sure to include them in your project summary so that you and your team can come up with a plan of action at an early stage.
Step 4. Write the Project Summary
Now that you have established your objectives and identified your audience, collaborate with your team to write an excellent project summary. Scroll up to the previous section to see what sections need to be included and start writing.
Want to know some tips to keep in mind while writing a project summary? Scroll down right now!
Tips to Remember While Writing a Project Summary
1. Avoid Using Jargon
Your project summary is a document that aims to provide information in a crisp manner, so the readers are able to skim through it and understand quickly. So the last thing you want is to include technical terms and jargon that readers might struggle to comprehend. Therefore, at all costs steer clear from the use of jargon.
2. Keep Crisp and Concise
Remember that your project summary is just a summary and not a full report. And summaries are supposed to be crisp and to the point. So, avoid getting into specific details of your project and its features, and try to keep it concise.
3. Proofread. Proofread. Proofread.
It goes without saying that no document should ever be left without proofreading. The last thing your readers want is to be confused with typos, grammar mistakes, and spelling errors. That's why it's extremely crucial that you review and proofread your project summary before sending it out. Just to be double sure, make a colleague proofread as well.
…there you have it! You are now officially equipped to start writing your project summary.
Before you go, we'd like to introduce you to a proficient tool that can help you create, share, and collaborate with stakeholders on project summaries and get work done efficiently.
Curious to know what we're talking about? Then keep on reading to find out more!
Write Project Summaries the Right Way with Bit.ai!
Writing a project summary involves brainstorming, storing data, and sharing information. Though it might not seem like a lot of work, it requires the combined effort of a team.
What you need is a platform to store information and collaborate with your project team to create amazing project summaries. This is where Bit comes in!

Bit.ai is an all-in-one document collaboration platform designed for the modern-day workplace. Bit provides a commonplace for employees to simultaneously collaborate and manage projects, create client-facing material, brainstorm, share meeting agendas, create proposals, and most importantly, share knowledge.
If you're wondering how bit can help you in creating a project summary, then check out these amazing features:
Ready-made Templates: Bit has an extensive template gallery that offers over 70+ professionally designed templates from which you can choose your favorite one! All you have to do is fill in your customized content (in this case, a project summary) and you'll get the whole draft ready in a few minutes!
Auto-formatting: You don't have to waste your time trying to fix the format of your project summary because Bit will automatically format your entire document to give it a very uniform and consistent look.
Smart Workspaces: With Bit, you can create infinite workspaces and folders to help you manage and organize information related to your project.
Media Integration: If want to include rich media integrations like charts, graphs, tables, excel sheets, etc. in your project summary, then Bit helps you do just that! It allows you to embed and seamlessly add over 100 rich media integrations to help you enhance your document.
Real-time Collaboration: Want to collaborate on your project summary with your team members? Then Bit is the way to go! With Bit, you can seamlessly collaborate with your team and work together on the same document in real-time, chat privately, make inline comments, co-edit, and do so much more to ensure that you do not miss out on any important details to be included in your project outline.
Simple UI: Even though Bit is jam-packed with features, it has a simple and easy-to-understand user interface, which makes it extremely easy for new users to get on board with the platform.
The list goes on and on, but you get the point, right?
Bit is indeed the one-stop solution for all your documentation and collaboration needs! So quit waiting around and get Bit today!
Conclusion
With a project summary in hand, you will always have a comprehensive and efficient overview of your entire project and its crucial details.
That's why we took it upon ourselves to guide you through the process of writing an amazing project summary. From crucial elements to steps and tips, we have given you everything you need.
Now all you have to do is follow the steps and use these tips, and you will have a project summary ready in no time! Good luck!
Further reads:
Project Timeline: What is it & How to Create it? (Step By Step)
Project Documentation: What is it & How to Manage it?
Project Budget Plan: What is it & How to Create it?
Project Scope: What is it and How to Write it?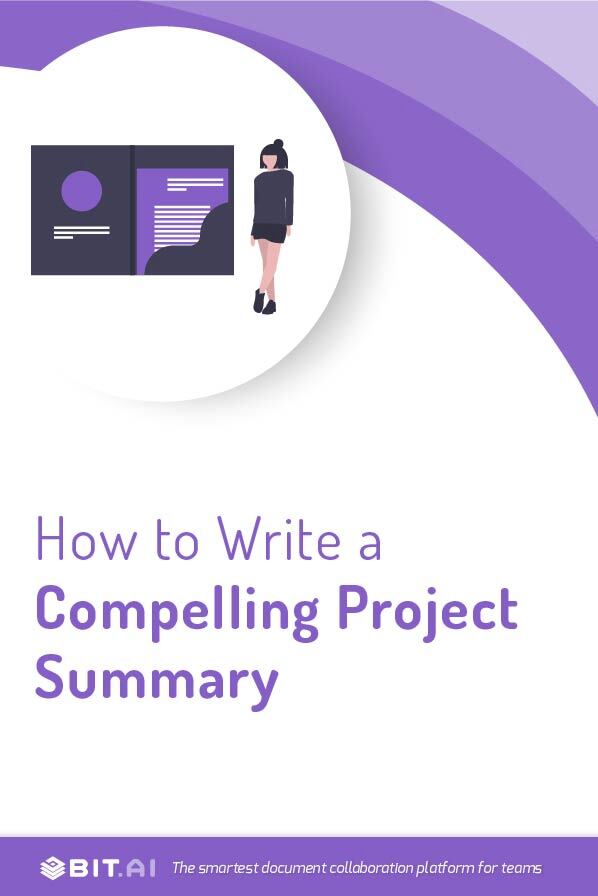 Related posts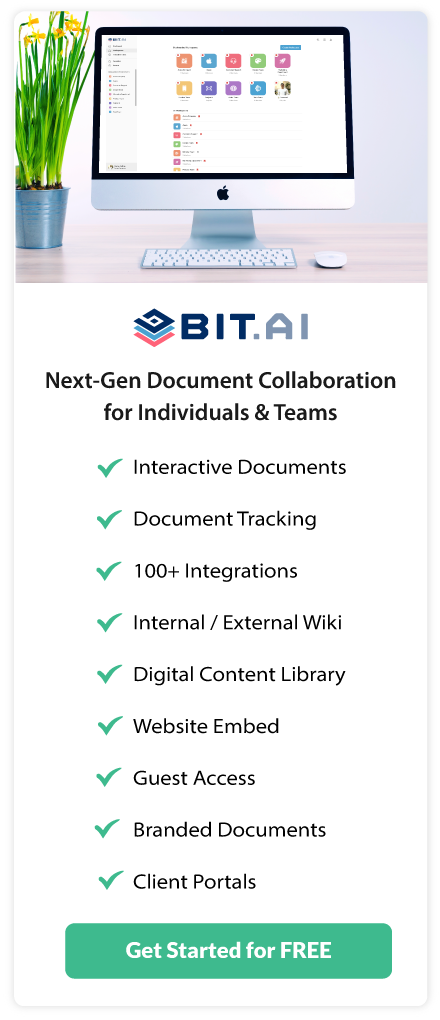 About Bit.ai
Bit.ai is the essential next-gen workplace and document collaboration platform. that helps teams share knowledge by connecting any type of digital content. With this intuitive, cloud-based solution, anyone can work visually and collaborate in real-time while creating internal notes, team projects, knowledge bases, client-facing content, and more.
The smartest online Google Docs and Word alternative, Bit.ai is used in over 100 countries by professionals everywhere, from IT teams creating internal documentation and knowledge bases, to sales and marketing teams sharing client materials and client portals.
👉👉Click Here to Check out Bit.ai.