Today, we are going to dive into the importance of having an awesome media kit. We'll show you how you can leverage it to gain exposure and partnerships.
We also will provide you with a free template for you at the end of this blog post so, you don't have to start creating your media kit from scratch! Read on…
Wouldn't it be awesome if you created a great product, provided awesome service, or created a breakthrough software and it gets picked up by the world's leading publications?
Dream come true! Right?
You would be flooded with new buyers and get tens of thousands of website views! Influencers, brands, advertisers would want to partner with you!
Hate to wake you up from that daydream….but, do you know what stands between you and this dream?
Creating a beautiful, professional, and informative media kit.
Having a media kit tells publishers, journalists, advertisers, marketers, and your audience in general that you have a story to tell.
If anyone has an inkling to write about you or mention your company/service, it's as easy as pie for them to grab your media kit. You're making their lives easy so they don't have to reach out to you and ask you unnecessary questions.
What Is A Media Kit? (Definition)
A media kit or press kit can be defined as a central repository of high-level information that describes your business. It contains information on who you are, what you do, websites, geo-locations, social presence, statistics, press releases, logos, and media files.
It's basically a kit that has anything a journalist and publisher would need to cover a story on you or a brand/partner would need to collaborate with you.
Media kits are a great way to show off your media coverage, press mentions, social media mentions, and other shoutouts you've been getting in the online media.
By having all this vital information in one place, you make it easier for prospects, clients, partners, and other journalists and publications to quickly get an idea about you and what others think of your brand, product, or service.

Why A Media Kit Is Essential For Every Business?
Having a media kit doesn't automatically put you in front of publishers and advertisers. Nor does it guarantee that you will be getting a lot of deals or promotions.
However, it does speed up and facilitate this process.
Making a media kit ready and available is a way to do work for reporters upfront. You're saving them valuable time searching for information, especially when they are often in a time crunch to turn around a story. Cutting down their work and saving them time is a good way to earn some brownie points!
If you're actively reaching out to reporters and partners while networking it's especially important to have your media kit polished, professional and up-to-date.
Media kits provide business owners with three major benefits:
If a media source has decided to feature/cover you, it's your responsibility to return the favor and make the process as easy as possible. A media kit, therefore, acts as a huge asset for journalists to gather all the company information and media assets in one place. It also gives an idea to reporters about how other media publications have written or talked about you prior. It's helpful when they are crafting their own narrative.
Including links to your press mentions, shoutouts, podcast interviews, etc, in your media kit is a great way to gain credibility by showing your audience the various sources that have mentioned you.
A media kit also helps you look more professional, thereby helping you to earn the trust of brands and advertisers, ultimately helping you attract more partnerships.
Read more: Influencer Media Kit: What is it & How to Create it?
How to Create a Media Kit? (Steps and Format)
Things one must include in a media kit are:
Step 1. Company Overview
Provide a summary of your company and the product(s) or services you provide. It can be as short as a sentence or a couple of paragraphs long.
Be sure to include your company's mission statement and your current status as a company. You can even include your product or company video to give you a visual appeal.
Step 2. Company History
Add a couple of paragraphs about how your company was founded. Who were the founders? What was the problem that they were trying to tackle? How did it start? How has your company evolved over time? Providing journalists with context is a good way to go!
Step 3. Company Stats
Make sure to include key company stats that are easy for journalists to extract information from. These can include:
Date Launched

Headquarters

Employee Count

Fundraising Status

Customers Served

Press Contact
All this is important information that must be included in every media kit.
Read more: The Definitive Guide To Brand Style (Template Included)
Step 4. Press Releases
Include any big announcements your company has made. It's best to maintain a record of your former press releases.
This is a great way to keep journalists in the loop with your company's history. Add a link or upload the press release directly into your media kit.
Read more: Top 9 Press Page Examples For Websites
Step 5. Demographics & Stats
List out key stats regarding your target demographic. Include answers to questions like:
Who is your primary audience?

What do they look like?

Where are they from?

Why do they use your platform?
In addition to this, you can also include customer quotes & use cases that build credibility and trust.

Step 6. About the Company
Include specifics of your company and details that you haven't included in your overview. Make sure that your language is directed to the press.
Think of content you think they would be interested in understanding your company. This is also a good place to talk about your team, how did your team come together, and what key roles the top management or founder play.
Key Features:
You can expand on your unique features and includes details that can help support their stories.
What makes your product/service different?

Why are you better than anything else on the market?

What are your competitive advantages?
Step 7. Media Mentions
Fill up this section with all the articles, publications, news, etc. that have interviewed or featured your company or your spokesperson. This helps builds credibility and reputation.
Step 8. Media Assets
If a media person wants to write about your company, they would primarily need some visual assets like your company logo, screenshots of your website, product videos, headshots of CEO and other key members, social media links, etc.
Make sure to have all of these assets in your media kit. It's important that the images, logos, and videos are of high quality.
Step 9. Contact Information
Include the email address and a contact number (if you are actively looking for media opportunities) clearly in the media kit.
If you have a separate email address (ex: "press@business.com") specifically for journalists or publications, don't forget to include that in your media kit.
Read more: How To Write A Project Proposal That'll Get Approved In No Time
Bit.ai: Ultimate tool to Create Your Media Kit
Alright. So far we have covered what exactly is a media kit and why it's crucial for you to have a dedicated page on your website where your media kit resides. But what about making a media kit?
You can read and view media kits all day long and put off actually creating one. We get it. A media kit is your gateway to huge brand partnerships and publicity. You don't want to mess it up by creating an average looking media kit; you want it to be perfect!
Well, today is your lucky day. We have created a media kit template just for you.
Want to make your media kit visually appealing? Want to add a product video, upload media files, attach cloud files, show your press mentions, or maybe get funky and add a GIF?! No problem, we got you covered!
Bit is a new age cloud-based document collaboration tool that helps teams create, manage and track documents. Bit documents are modern looking and responsive and allow you to create press pages, media kits, business plans, meeting agenda, fact sheet, project proposal, investor deck and all sorts of personal and professional documents easily.
Traditionally, companies create a separate web page for news feed and media kit. They share their media kit assets- their product videos, company logos, press releases, PDF files, article links, social media posts, etc by placing their files in a cloud folder or posting links to their assets on their media kit web page.
However, Bit offers a better, easier and more interactive way of sharing your media kit assets with journalists and reporters by creating a dynamic media kit document. You can directly embed links to your cloud files- your logos, videos, audio files, articles, PDFs, social media posts, etc. in your Bit-Media Kit. No need to share separate folders and links to files that reside someplace else. Give everything to your audience in one place by creating your media kit with Bit.
Check out how you can create an amazing-looking media kit with Bit and woo reporters and brands with your professionalism and awesome design.
[/vc_column_text]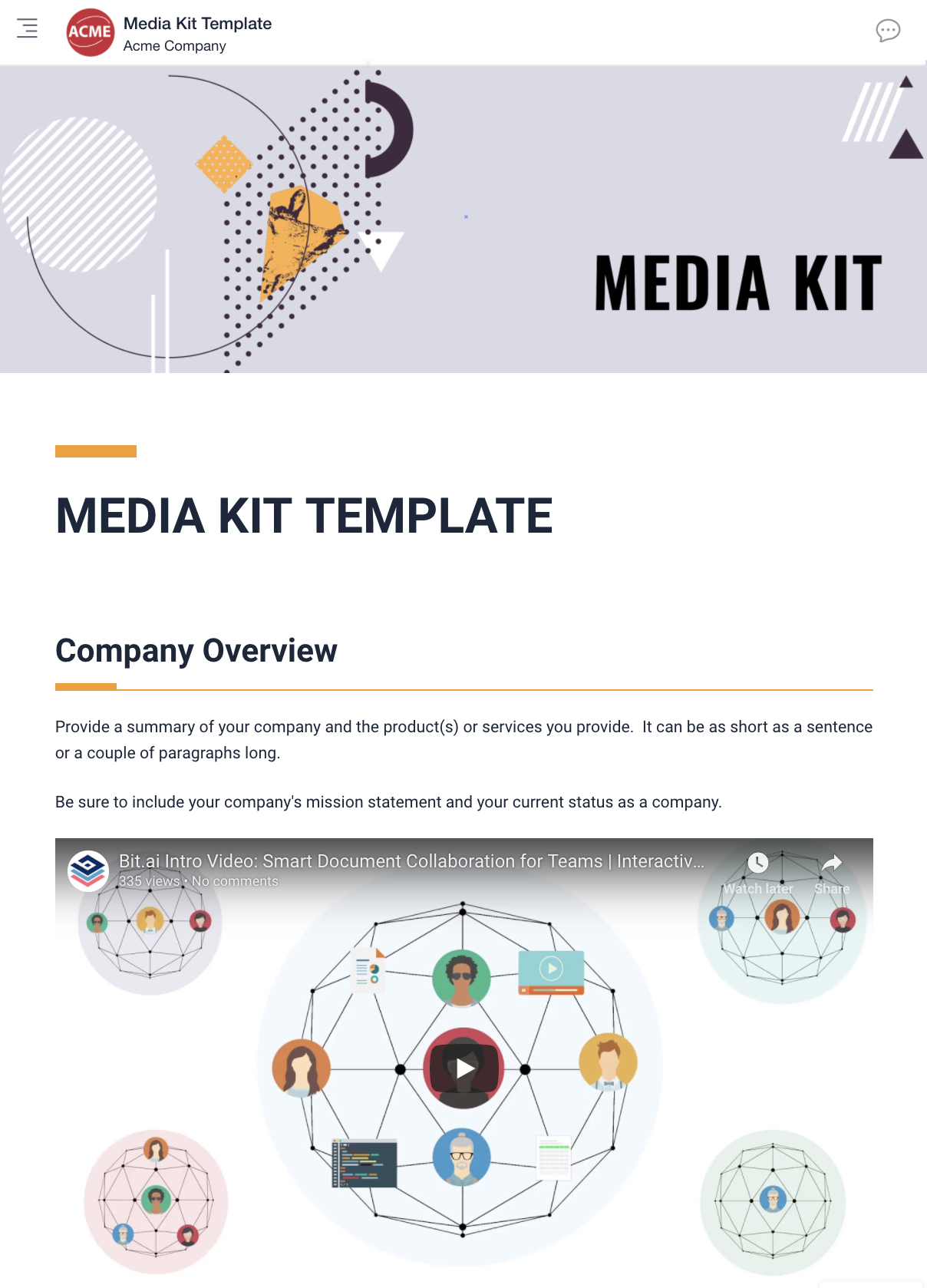 Bonus tip
You can embed a lead capture form to your media kit document and can share it with clients and prospects with a trackable link. Which means that whenever someone opens your document, you'll get a notification! In this way, you can follow up on reporters and brands easily and keep the conversations going!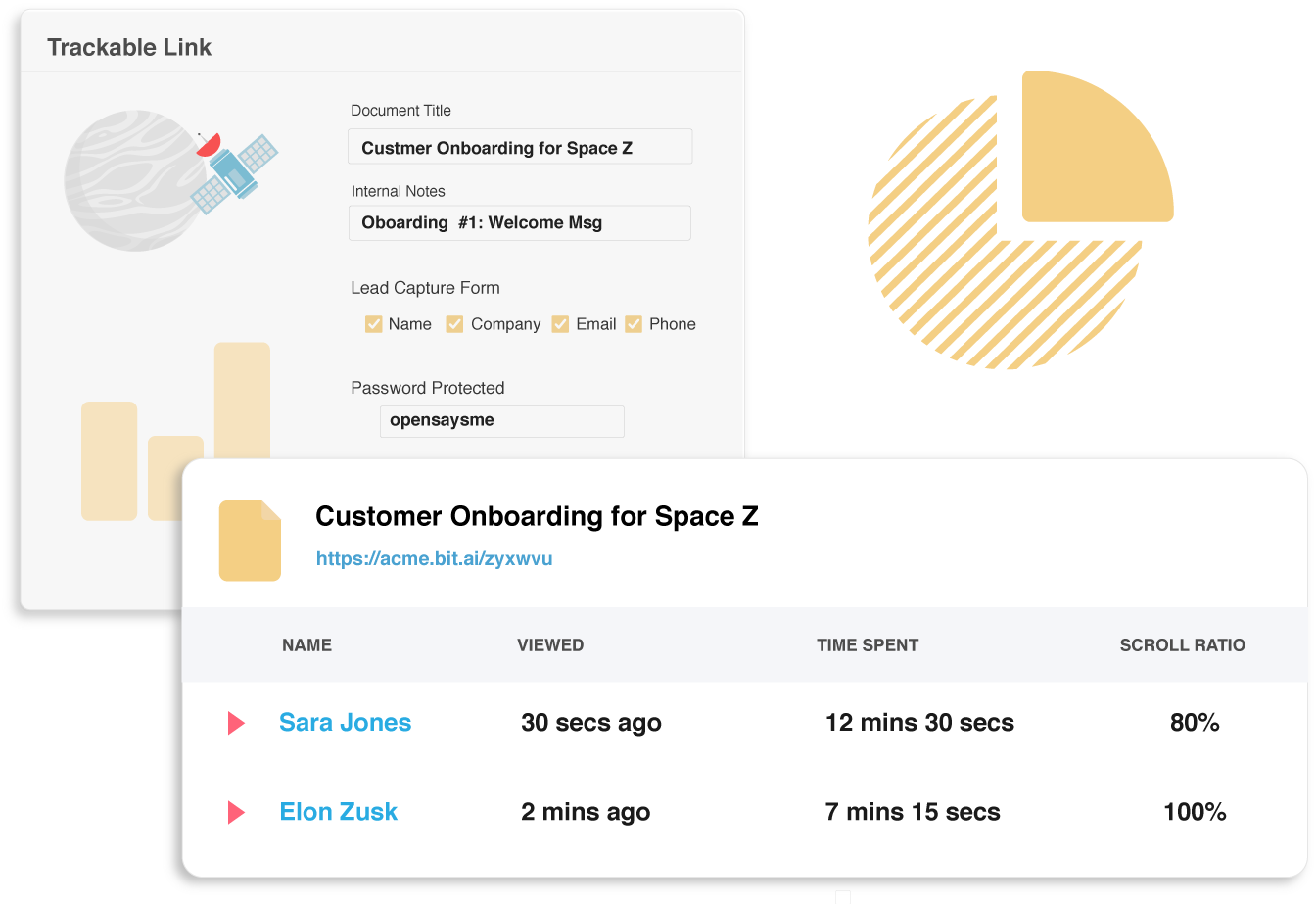 🎥Watch this video to learn more👇
Over to you!
So there you have it. Your very own media kit with everything journalists need to cover you and brands need to collaborate with you. Remember, a media kit only acts as a facilitator. You still need to put in the work and network in order to generate buzz about your website or product.
When designing your media kit, think about the websites and publications you want to be on and what you can include in your media kit that will make it easier to get the press there.
What do you think about media kits? Share with us your media kit if you already have one in comments below. If you have any doubts, feel free to reach out. We'll be happy to help 🙂
Further reads: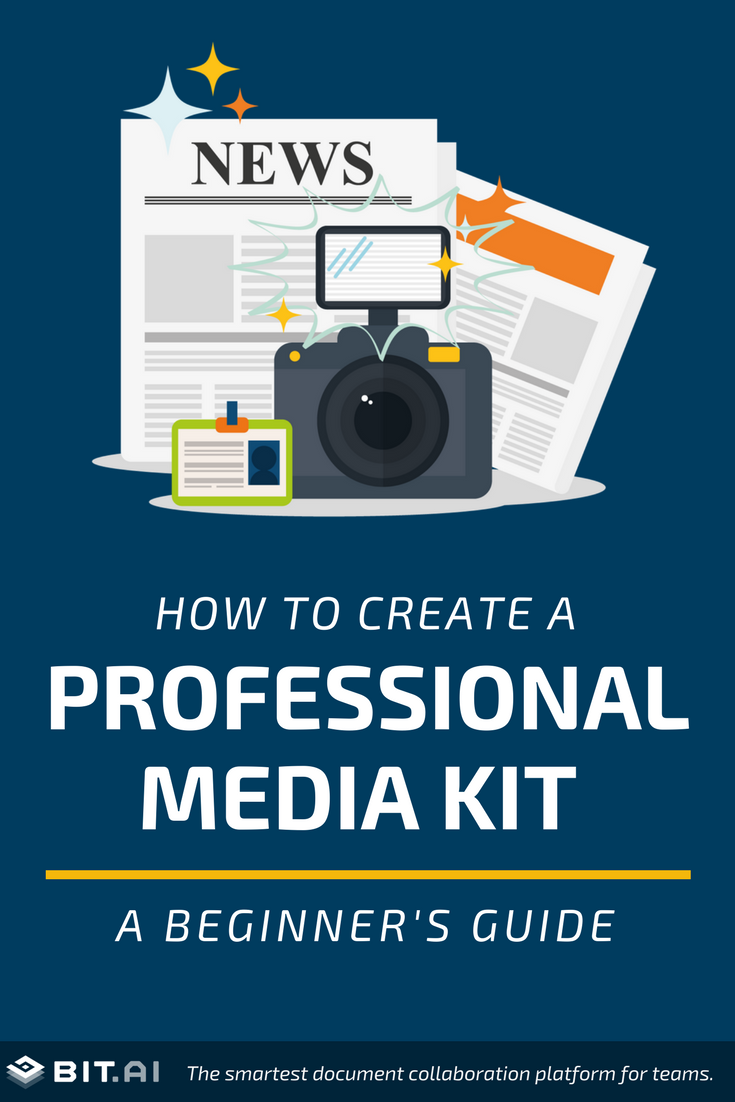 [/vc_column][/vc_row]
Related posts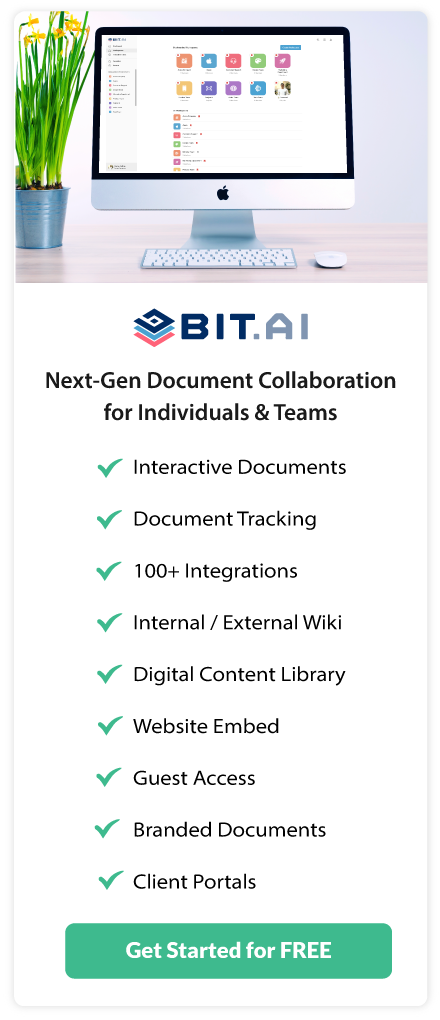 About Bit.ai
Bit.ai is the essential next-gen workplace and document collaboration platform. that helps teams share knowledge by connecting any type of digital content. With this intuitive, cloud-based solution, anyone can work visually and collaborate in real-time while creating internal notes, team projects, knowledge bases, client-facing content, and more.
The smartest online Google Docs and Word alternative, Bit.ai is used in over 100 countries by professionals everywhere, from IT teams creating internal documentation and knowledge bases, to sales and marketing teams sharing client materials and client portals.
👉👉Click Here to Check out Bit.ai.