Every marketer spends an immense amount of time trying to drive more traffic to their website.
But let us break it to you – this is the easy part!
When it comes to converting all this traffic, marketers tend to fail.
And it's proven – most websites don't have a massive traffic problem, however, every website in the world has a conversion problem.
Getting your prospects to jump through their initial resistance to buy your product is often tough. What's the solution?
Introducing: Tripwires!
Although they may seem a little shady at a first glance, they're not. Rather tripwires have been effective for a long, long time now.
Think about tripwires as a low-cost product that your customers may not think twice about before buying.
With the right tripwires, you can start fostering long-standing relationships with your customers and make them come back for more!
In this blog, we'll define everything from what a tripwire is, its funnel, some examples, and more. So let's get to it then…
What Are Tripwires? (Definition)
Simply, a tripwire is a low-priced, tempting offer that aims to convert your leads into customers.
It is a common practice used to increase customer acquisition.
Not all leads that subscribe to your business will inherently be interested in your main offerings as a business.

This is where tripwires act as the game-changer.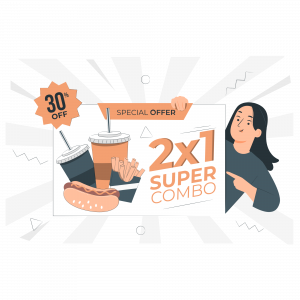 When you offer an irresistible, economical offer on a different product, they'll most likely also see the value in the more expensive main products you offer.
It's proven – People who purchased tripwires were 10 times more likely to purchase their core offer.
Let's say that if they were enticed enough to trust you with their credit card information, then they'll surely come back for more.
Tripwires will not only pay for themselves but also end up increasing your email list and boosting your sales.
But let's not forget, that the ultimate goal of tripwires is to turn your prospects into customers, who then become repeat buyers, not just to gain a one-time buyer.
Don't worry we'll take a deeper dive into the world of tripwires and also share some examples, read on…
How Can You Include Tripwires in Your Sales Funnel? 
Your sales funnel is where all the magic of converting your leads to customers happens. Thus, naturally, tripwires will need to be placed somewhere here.
And trust us, tripwires are worthy enough to become a part of your overall conversion funnel strategy.
Not just that, adding tripwires to your sales funnel is super simple!
Marketers generally use tripwires as a top-of-funnel strategy or middle-of-funnel strategy.
In the top-of-funnel strategy, you simply use SEO and content marketing to generate website traffic and then offer an irresistible offer at a low price. That's a great way to convert people quickly.
In the middle of the funnel, you drive traffic to your website and use a lead magnet (free offer) to get people to sign up for your email newsletter. Then you set up a campaign that promotes your tripwire offer. You can use this same tactic for an already existing emailing list. Also, it's a great way to bring back lost customers and increase the retention rate.
And just like that – you've assimilated your tripwire into your sales funnel seamlessly. Now it's time to learn what tripwires you need to use and how it works.
Let us show you some examples of tripwires to give you a headstart on creating one for your brand…
Read more: Marketing Funnel: What is it & How to Create it? (Steps included)
6 Awesome Tripwire Examples To Get You Started
There are many ways you can offer tripwire deals for your brand.
One of the simplest ways to create your tripwire:
Examine your product line
Find the product that sells most
Create a similar product that costs less but is enticing enough
To be honest, there is no single way to create tripwires and it doesn't always have to be you offering a product, it could be trials or something else, too. Remember the golden rule is to provide value.
If you struggling to find the right tripwire, we'll give you some distinct ideas to get started with:
Webinars
Free Consultation
E-books
Free Trials
Instructional Videos
Product Bundles
All of these are tested tripwires that work fantastically, and we're also providing you with some examples to give you a clearer image of how tripwires have been used by other businesses…
1. Awesome Parents
TheAwesomeParents.com provides a free pair of premium socks (cost – $22) as a tripwire. All you need to do is pay the shipping costs!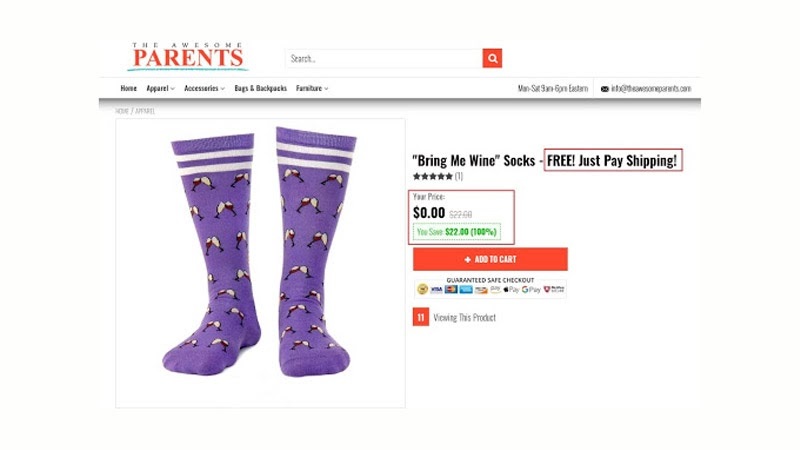 Once you add this tripwire offer to your shopping cart, they upsell similar products to you. Check the image below: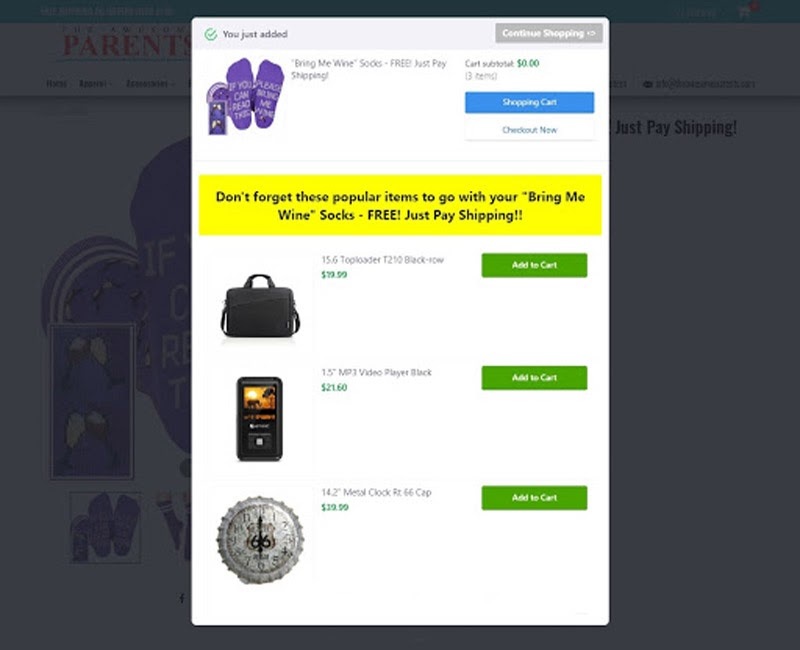 This way, upsells can easily help you earn a profit using tripwires.
And then the customer's journey with your brand begins, once they have taken up your tripwire and order an upsell, you can start selling them more of your core products through a drip campaign (series of emails)
2. DesignCuts
Bundled products work wonderfully as a tripwire.
DesignCuts.com offers design-related resources like fonts, templates, and more.
They release tripwire deals regularly which includes a bundled collection of many design elements at super low prices.
All of their deals are offered for a limited period of time, creating urgency and thus, making it all the more much more attractive.
The following is one such example.
As you can see above, Design Cuts is affording a super affordable deal by slashing its own prices. No designer would ever pass up on a deal as lucrative as this. And it's very possible that as they head to checkout, they'll be met with a multitude of other resources from the site.
3. ExceedNutrition
Exceed Nutrition is offering a $1 trial which is another great tripwire example.
Exceednutrition.com sells such recipe packs that are affordable and too irresistible to be passed on. With the $1 trial, you gain access to all membership features for a period of 14 days.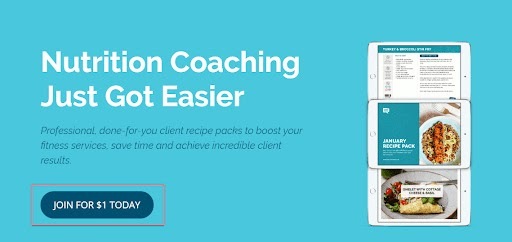 As you can see below, customers can cancel anytime and there is also a money-back guarantee that eliminates any possible doubts or risk that a customer may associate with the deal.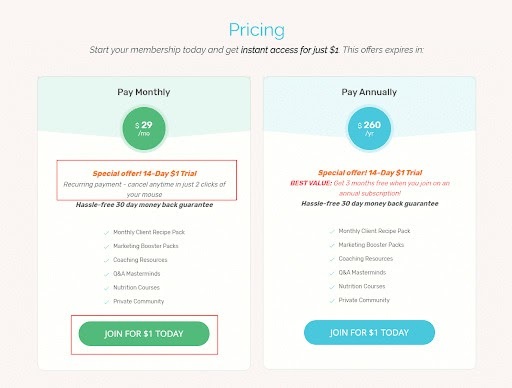 4. Disney Movie Club
The Disney Movie Club provides 4 movies of your choice for just $1 along with free shipping as a tripwire, just to make the deal lucrative and to get users to join their program!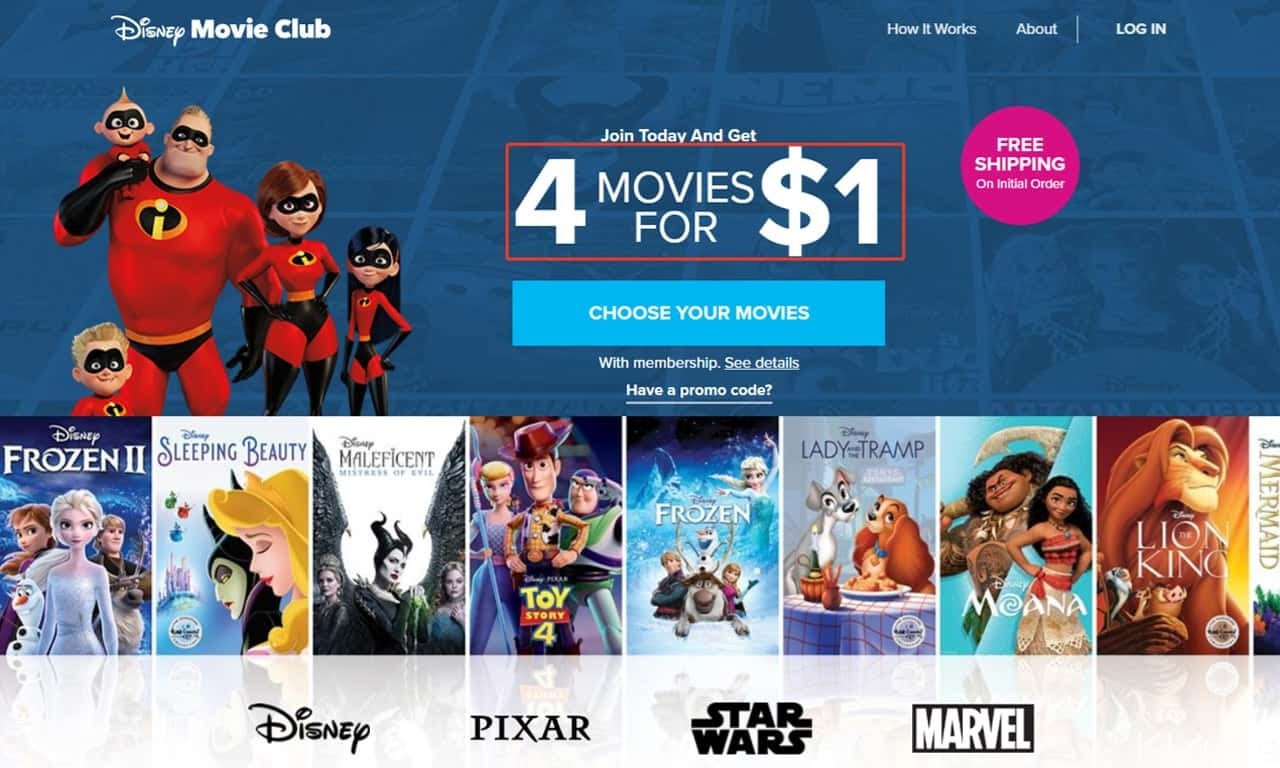 How does Disney make up for this low cost? Well, once customers join using the tripwire, they need to buy at least 5 more movies in the course of the next 2 years.
This is again, not a big deal for any Disney fanatic, who will most certainly buy more than 5 movies in 2 years!
5. Snackcrate 
Product samples are also great tripwire deals!
Snackcrate is simply a subscription service that delivers its customers snacks from various countries monthly.
In order to get more customers, Snackcrate offers a starter subscription box as a tripwire.
The box simply costs $5 and comes with over half a pound of snacks. So customers get to enjoy wonderful snacks at an insanely low price.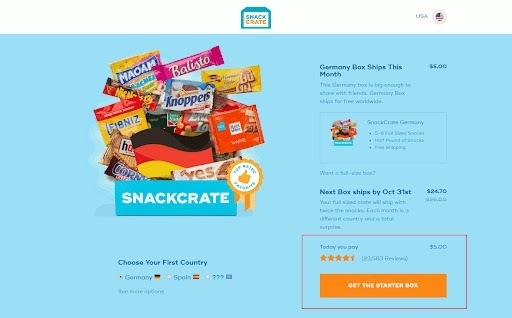 To encourage customers to continue with their subscription, Snackcrate also gives a discount for the 2nd month. Starting from the third month, the regular price is charged.
Customers are free to cancel their subscriptions at any time.
6. Ahrefs 
Ahrefs (online competitor research tool) is offering a $7 trial for 7 days as a tripwire deal.
The trial provides complete access to all the features, with the option to cancel anytime.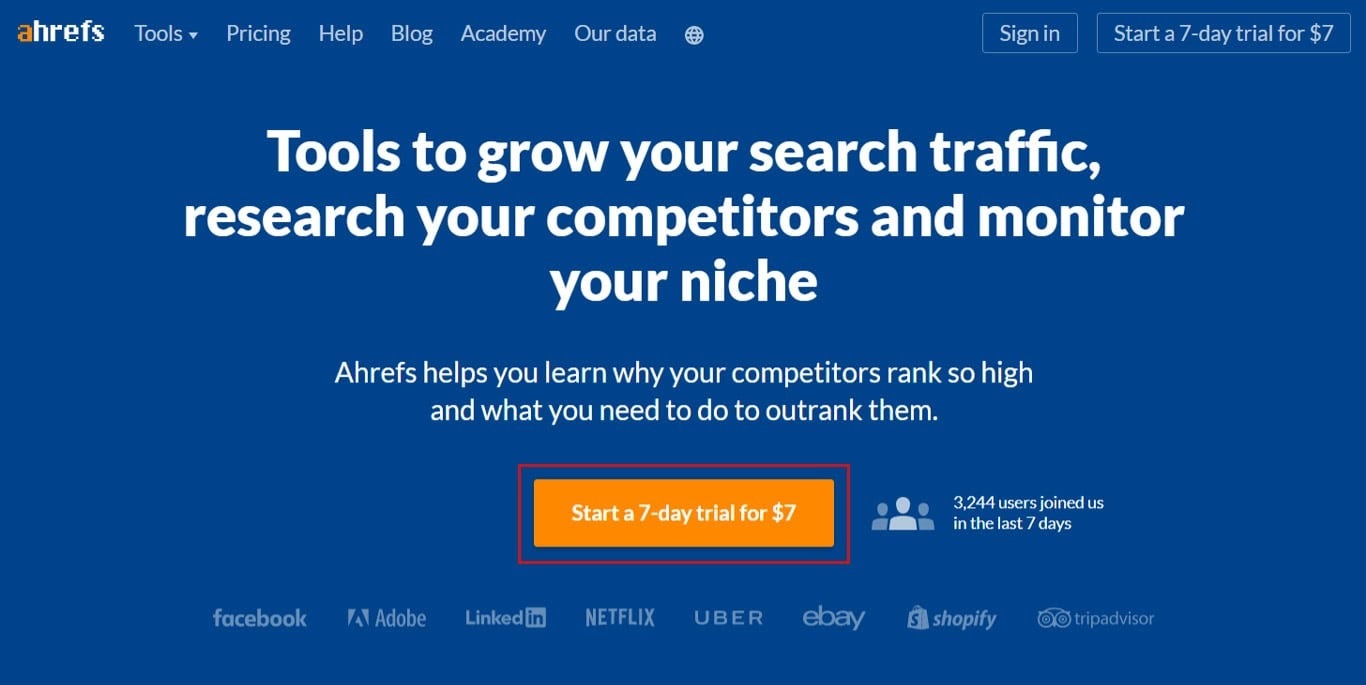 Once the free trial is over, you will be charged $99 per month for the Lite plan or $179 for the standard plan.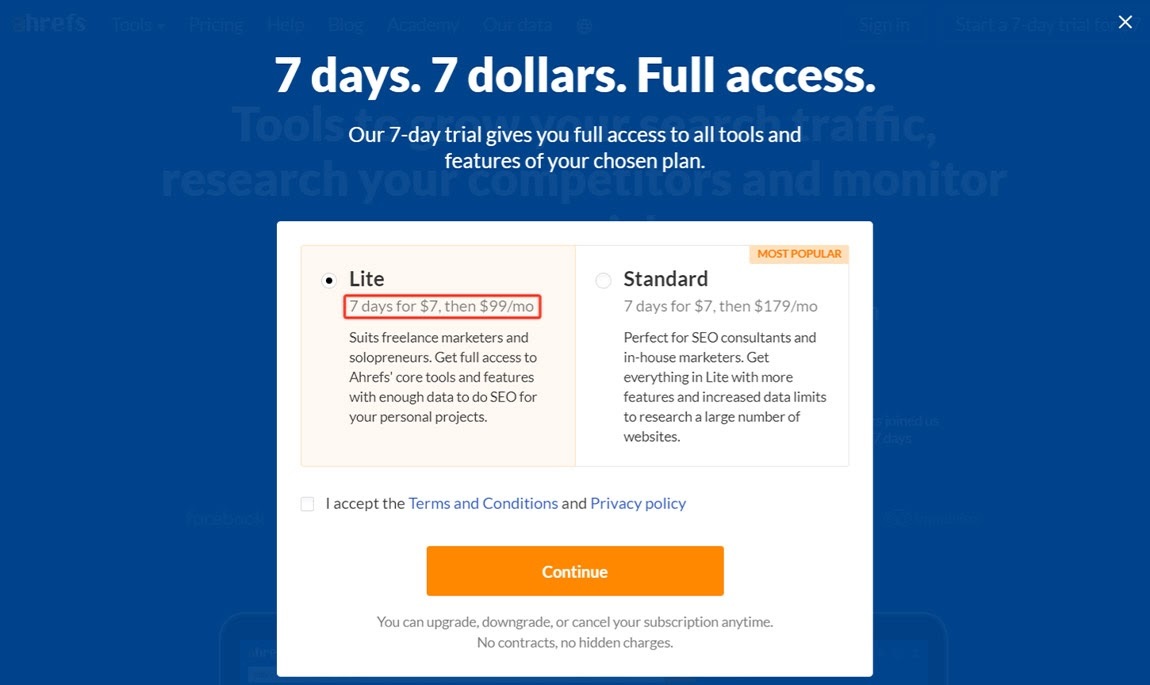 Many brands offer a free trial with limited features but Ahrefs is a great option as prospects get to use all the features for a low cost.
Once people have been enticed by the product, chances are they'd also sign up for the monthly plan, just to not miss out on the experience!
And that is all the examples we have in store for you, we hope that it helped you understand how tripwires work.
Wrapping Up
Like we already said in the beginning, you're probably doing great on generating traffic but without a solid way to convert them into customers, those efforts are futile.
A tripwire is a great way to run your business on autopilot as it reels in more and more new customers for you.
It acts as that first enchanting look at the value that your brand can offer. And that sentiment alone will make them buy more expensive, core products from your firm.
Tripwires are a proven and super-effective marketing tactic that will bridge the gap between potential customers and your brand.
If you haven't ever given tripwires a try – now is the time to do so.
Test it, even if just for a short period of time, and trust us the results you will yield will surely be staggering!
And that is all – we've tried to cover everything tripwires and are sure you've learned enough to implement them for yourselves.
Do let us know about your experience with tripwires and if they worked for you by tweeting us @bit_docs, we'd love to hear all about it!
Further reads: 
Growth Marketing: What is it & How to Carry it out for your Business?
Guerrilla Marketing: What is it and How to Use it For Marketing!
Sales Funnel Guide With Examples!
9 Sales Collateral Examples You Should be Using in 2022
Related posts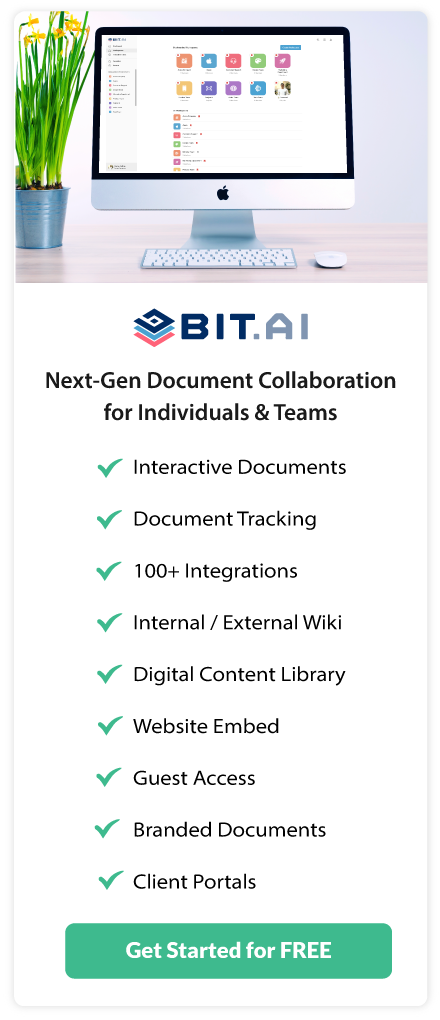 About Bit.ai
Bit.ai is the essential next-gen workplace and document collaboration platform. that helps teams share knowledge by connecting any type of digital content. With this intuitive, cloud-based solution, anyone can work visually and collaborate in real-time while creating internal notes, team projects, knowledge bases, client-facing content, and more.
The smartest online Google Docs and Word alternative, Bit.ai is used in over 100 countries by professionals everywhere, from IT teams creating internal documentation and knowledge bases, to sales and marketing teams sharing client materials and client portals.
👉👉Click Here to Check out Bit.ai.