Maybe you have a new feature in mind for your product, but you're unsure if your customers want it. Or, maybe you're wondering how satisfied your customers are with your offerings.
Your customers' opinions can guide you in making your products or services even better. They help you gauge customer satisfaction and pinpoint areas for improvement. But how do you gather this vital information? One effective way is through customer feedback questions.
However, creating an effective feedback survey is no hasty task. It requires thoughtful consideration of various factors. Where and when should you ask for feedback? What are your goals in gathering this information? Knowing the answers to these questions is crucial for crafting the right survey questions.
Whether you're in customer service, retail, or any other industry, customer feedback is the goldmine of information. It's not just about fixing what's broken; it's about building loyal customers and truly understanding what they want.
This article will walk you through common feedback survey questions and when to use them. We'll also delve into strategies for boosting user engagement and making the most of customer feedback.
Let's dive in!
When Should You Conduct Customer Feedback?
Collecting customer feedback is like taking a temperature check for your business. It helps you understand how they feel about their experience with your company. But you might be wondering, when is the right time to ask for this feedback? Well, let's break it down.
First things first, you should ask for feedback when you're planning to use it. If you already have a clear plan for improvements and can't squeeze in more projects in the near future, hold off on surveys for now.
Let's dive into different times when you should gather customer feedback. Imagine you're selling a product. If it's a bit complicated to set up or use, like software, you want to know how your customers feel about the experience. Do this right after they've unboxed or installed it, within 48 hours if possible. This way, their emotions, good or bad, are still fresh.
If you're in the software business, you could even make the product itself ask for feedback 24 hours after installation. It's a smart move because it's not just about knowing what customers think but also helping them when they get stuck.
Now, think about when people have been using your product for a while, maybe around six months. At this point, they can give valuable insights on improving your product. So, go ahead and ask them for feedback.
For service contracts, like providing security services to a company, ask for feedback before they think about renewing. For multi-year contracts, aim for an annual survey around the middle of the contract term. Single-year contracts should get feedback about three months in.
Some businesses offer both products and services to airlines. If you're in this boat, gather feedback within 24 hours of the customer's experience. Don't be like those airlines that wait a week or more; the customer's already forgotten everything.

Now, for your most important customer relationships and your brand surveys, do them twice a year. You can even keep them ongoing so you can see how changes in the market affect your brand. Don't forget to share the results and plans for improvement with your customers and your team.
Transactional and episode surveys are quick questionnaires that pop up after an online purchase or a support call. Don't wait too long to ask for feedback; right after the transaction is best, or maybe 24 hours later for more complex issues.
Now, here's the bottom line. Feedback is like gold for your business. The best time to ask for it is as soon as possible. Your customers might forget important details if you wait too long. So, be proactive, and make sure you ask everyone for their thoughts. Every engagement with a customer is an opportunity to learn and improve.
Customer Feedback Questions After a Product Launch
Launching your business's new product or service is always exciting. However, it can also be a bit risky. You should seek your customers' opinions to minimize that risk and make well-informed decisions. This section will discuss some essential customer feedback questions to ask after a product launch. These customer feedback questions will help you gather valuable insights and make necessary improvements.
1. "How much would you pay for [new feature/product]?" – Pricing is a critical aspect of any product or service. Encourage customers to share their ideal price range and what they expect in return. This insight can help you set competitive prices.
2. "Did the [new feature/product] meet your expectations?" – This question helps you assess if your product met the customers' expectations. If not, inquire about what specific aspects fell short.
3. "What do you like most about the [new feature/product]?" – Understanding what customers appreciate can guide your marketing and product promotion. It's also important to emphasize these positive aspects in your marketing efforts.
4. "How easy was it for you to [use/adopt] the [new feature/product]?" – Assess the user-friendliness of your product. Identify any usability issues or challenges customers encounter and work to address them.
5. "Have you recommended the [new feature/product] to others? Why or why not?" – This question helps you gauge customer satisfaction and whether they are willing to be brand advocates. If not, understand the reasons behind their decision.
6. "How does the [new feature/product] compare to similar offerings from competitors?" – Gain insights into your product's competitive advantage. This information can help refine your marketing strategy and highlight what differentiates your product.
7. "Were you aware of the [new feature/product] before the launch? If yes, how did you hear about it?" – Assess your pre-launch marketing efforts. If customers weren't aware of the product, consider investing in better pre-launch promotion.
8. "What other products or features would you like to see from us in the future?" – Encourage customers to share their vision for the future. Their ideas might lead to innovative product development.
The more you involve your customers in the decision-making process, the more likely you are to create products that resonate with them and foster customer loyalty. So, don't hesitate to reach out and gather those valuable insights.
Customer Feedback Questions To Improve Your Product/Service
Knowing your customers is essential, but knowing how to talk to them is just as important. These customer feedback questions help you understand your customers better and where they're coming from. Once you know, you can target your marketing and product development effectively.
1. "How often do you use our product/service?" – This question is crucial for measuring customer engagement. Frequent usage suggests strong customer satisfaction, while infrequent use might indicate areas for improvement or risk of churn.
2. "Which features of our product are not helpful for you?" – Identifying unhelpful features is a key step in improving your product. By eliminating or enhancing these aspects, you can enhance overall customer satisfaction.
3. "What improvements would you add to our product?" – This question directly solicits customer input for product enhancement. Their suggestions can lead to valuable improvements and innovations.
4. "What is the main benefit of our product?" – Knowing what customers value most about your product helps you highlight these benefits in your marketing and messaging, making it more appealing to potential customers.
5. "What do you like least about our product?" – Understanding what customers dislike allows you to address pain points and work on areas that might deter customer satisfaction.
6. "What do you like most about our product?" – Positive feedback about favorite aspects of your product provides valuable insights for marketing and product development. You can capitalize on these strengths.
7. "Does the product help you achieve your goals?" – This question assesses the product's effectiveness in meeting the intended goals, helping you understand if your product aligns with customer needs.
8. "Based on your product experience, how likely are you to recommend us to others on a scale of 1 to 10?" – This Net Promoter Score question gauges customer loyalty, as customers who are willing to recommend your product are more likely to be loyal customers themselves.
When used effectively, these questions can help you gather comprehensive feedback, refine your product or service, and tailor your marketing and customer retention strategies to meet customer needs and expectations.
Customer Feedback Questions To Improve Business Website
Your website is like a digital storefront, and it must work efficiently to attract and retain customers. If you're uncertain why your website might not perform as well as you'd like, customer feedback questions can be valuable. Here are some essential customer feedback questions you can ask to get insights into improving your website:
1. "Have you used or visited our website?" – This question is a starting point to identify if your customers have engaged with your website. Understanding their interaction is crucial to making informed improvements.
2. "Was it easy to find?" – The ease of finding your website can significantly impact customer traffic. If they struggle to locate your site, it might be time to work on your online presence.
3. "What were you looking for on the website? Did you find it?" – This question helps you understand if your website is meeting your customers' needs. If they can't find what they're looking for, they might look elsewhere.
4. "Was the website easy to use?" – A user-friendly website is essential for keeping visitors engaged. If your website is confusing or difficult to navigate, it's time to consider improvements.
5. "What would you change about it?" – Feedback on potential changes can provide you with valuable suggestions for enhancing your website's user experience. Your customers might have fresh insights you haven't considered.
6. "How easily can you navigate our website?" – Website navigation ensures a smooth user experience. A user-friendly website keeps visitors engaged and encourages them to explore further. Be mindful that slow-loading pages can deter potential customers.
7. "Did you find the information you were looking for on our website?" – Understanding if your website provides the information customers are seeking is crucial. If there are gaps in information, consider updating and expanding your content.
8. "What do you think our website is missing?" – Your customers can offer valuable insights into what your website lacks. This feedback can guide you in making simple changes and improvements. Consider using website buttons and feedback widgets to collect user opinions, and tools like Rapidr can be beneficial for this purpose.
Incorporating these questions into your customer feedback strategy can help you identify areas for improvement and enhance your business website to attract more visitors and keep them engaged. Listening to your customers' opinions and acting on their feedback can help your website reach its full potential.
Customer Feedback Questions To Improve Marketing Campaigns
1. "What factors influenced your decision to choose our product or service over others?" – This question aims to uncover the unique selling points (USPs) that resonate with customers and provides insights into what sets your product or service apart from competitors.
2. "How did you first hear about our brand, and what made you consider engaging with us?" – This question helps identify the most effective marketing channels and messaging that attracted the customer's attention, which can inform future marketing strategies.
3. "Can you share your overall satisfaction with our marketing communications and promotional materials?" – This question assesses the customer's satisfaction with the quality and effectiveness of your marketing materials, helping you evaluate their impact.
4. "What specific features or aspects of our product or service appeal most, and why?" – Understanding the specific features or attributes customers find appealing can guide marketing efforts to highlight these strengths.
5. "Were there any marketing channels or advertisements that played a significant role in your purchase decision?" – This question helps determine which marketing channels and campaigns influence driving conversions most.
6. "In your opinion, how can we improve our marketing efforts to meet your needs and expectations better?" – This open-ended question invites suggestions for improving and aligning your marketing strategies with customer preferences.
7. "Have you recommended our product or service to others, and if so, what motivated you to do so?" – Understanding the motivations behind word-of-mouth recommendations can provide valuable insights into customer loyalty and advocacy.
8. "Do you believe our brand effectively communicates its unique value and benefits in its marketing materials?" – This question assesses whether your marketing materials effectively convey the value and benefits of your product or service, helping identify areas for improvement.
These questions are designed to collect feedback that can inform and optimize your marketing efforts, making them more effective and customer-centric.
Customer Feedback Questions To Measure Customer Experience
To improve your business, you need to know more about your customers. How can you do that? It's simple – ask them some questions. Here's how you can go about it.
1. "Who Are Your Customers?" – Start by getting to know your customers. Ask them about themselves. For example, you can ask, "How would you describe yourself?" This way, you can find out things like their age, where they live, and what they do.
2. "What Problems Do You Solve?" – Ask your customers what problem your product or service helps them with. This is crucial because it tells you why they use what you offer.
3. "What Would Change Without Your Product?" – Ask them how they'd feel if they didn't have your product. Do they have any worries or problems that your product solves? This helps you understand how much your product helps.
4. "How Do They Use Your Product?" – Learn how they use your product. This will tell you what they find valuable and how it benefits them.
5. "Describe Your Buying Experience" – Ask customers to describe their buying experience. If it's confusing or takes too long, you'll know what to improve.
6. "Is It Worth the Cost?" – Find out if they think your product is worth the price. If they don't, you might need to rethink your pricing.
7. "What Convinced You to Buy?" – Ask them what convinced them to buy your product. These things that convinced them can be repeated and highlighted for others.
8. "What Almost Stopped You?" – Find out what almost made them change their minds and not buy. This way, you can work on removing these issues.
Remember, your customers' feedback is a valuable resource for your business. It can help you improve and ensure that they have a great experience. So, ask the right questions and listen to what they have to say. It's a win-win for both you and your customers.
Final Thoughts
Customer feedback is like gold for your business. It lets your customers speak up and tell you what's good and what's not. But here's the deal: you have to ask the right questions in the right way to get the good stuff.
Start simple with one-question surveys, then move on to the longer ones. If they're wordy, ask friends to help simplify. Clear questions are key.
Is your customer service A+? Are your products top-notch? You need to ask the right questions to find out. Have a plan and be smart about it.
Adapt these questions to fit your business and use surveys, emails, or just chat to get answers. We've got the freshest list of questions for 2023.
Good Luck!
Further Reads:
Customer Feedback: Importance, Methods & Questions!
Customer Needs: Most Common Types You Should Know About!
Customer Research 101: A Complete Guide! (Importance & Types)
Power Words For Sales To Boost Conversions in 2023! (+Examples)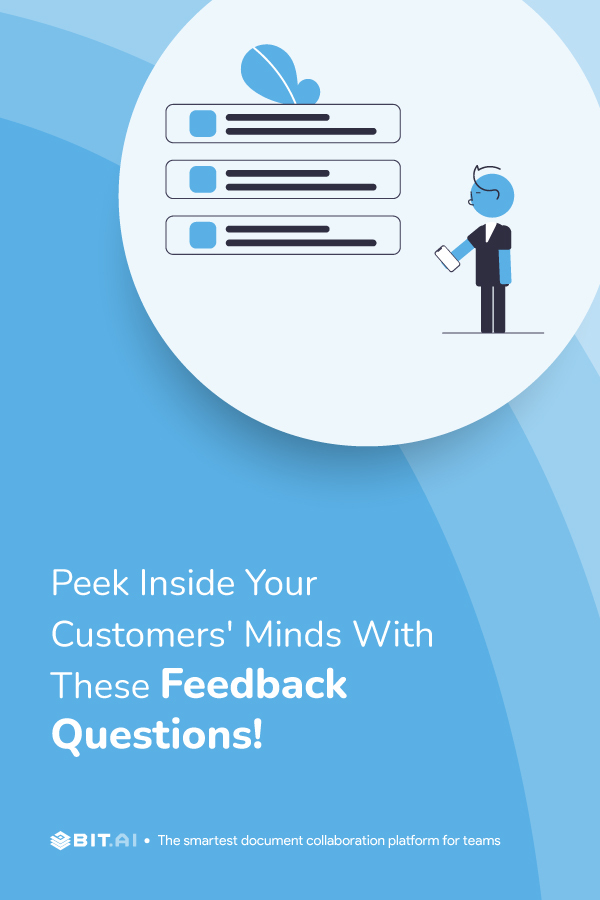 Related posts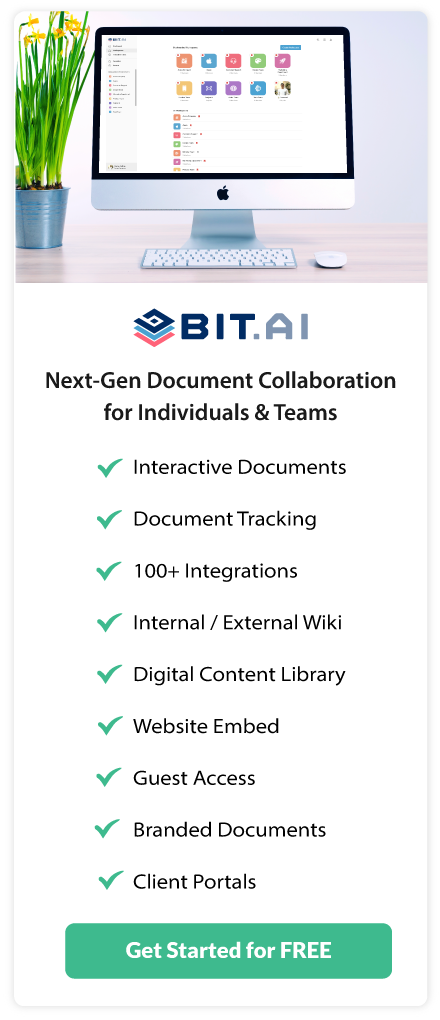 About Bit.ai
Bit.ai is the essential next-gen workplace and document collaboration platform. that helps teams share knowledge by connecting any type of digital content. With this intuitive, cloud-based solution, anyone can work visually and collaborate in real-time while creating internal notes, team projects, knowledge bases, client-facing content, and more.
The smartest online Google Docs and Word alternative, Bit.ai is used in over 100 countries by professionals everywhere, from IT teams creating internal documentation and knowledge bases, to sales and marketing teams sharing client materials and client portals.
👉👉Click Here to Check out Bit.ai.