What's one of the biggest mistakes you can make while doing business? The answer is pretty simple – not creating written agreements or contracts.
You can tell your vendors to keep a promise and lay down the rules for them, but let's be real here for a second:
How many people are actually going to remember your specific requirements and rules if you don't put them down on paper? Even you might not remember them after a while.
While you are pondering over that, here is a study by Opus and Ponemon Institute that shows 59% of companies have experienced a data breach caused by one of their vendors or third parties.
This why is it necessary to explicitly define all of your conditions and expectations in a legally binding vendor agreement. Trust us, it's going to save you and your vendor from unnecessary disputes and confusion.
So, let's try to understand what exactly are these vendor agreements and how they are useful for your business. Bonus: we'll also tell you how to create one!
Ready? Then, dive right in!
What is a Vendor Agreement? (Definition)
A vendor agreement is a legal business contract between two parties that deals with the exchange of goods and services in return for compensation.
It states the terms, conditions, and defines the rules and regulations under which an exchange can take place. This is to ensure that legal protection is granted to both parties and there are no conflicts & misunderstandings.
For example, if your business wants stationery supplies, you enter into an agreement with a vendor who is willing to supply them to you. In this agreement, you specify the amount of supply you need, the payment details, the time and venue of exchange, etc.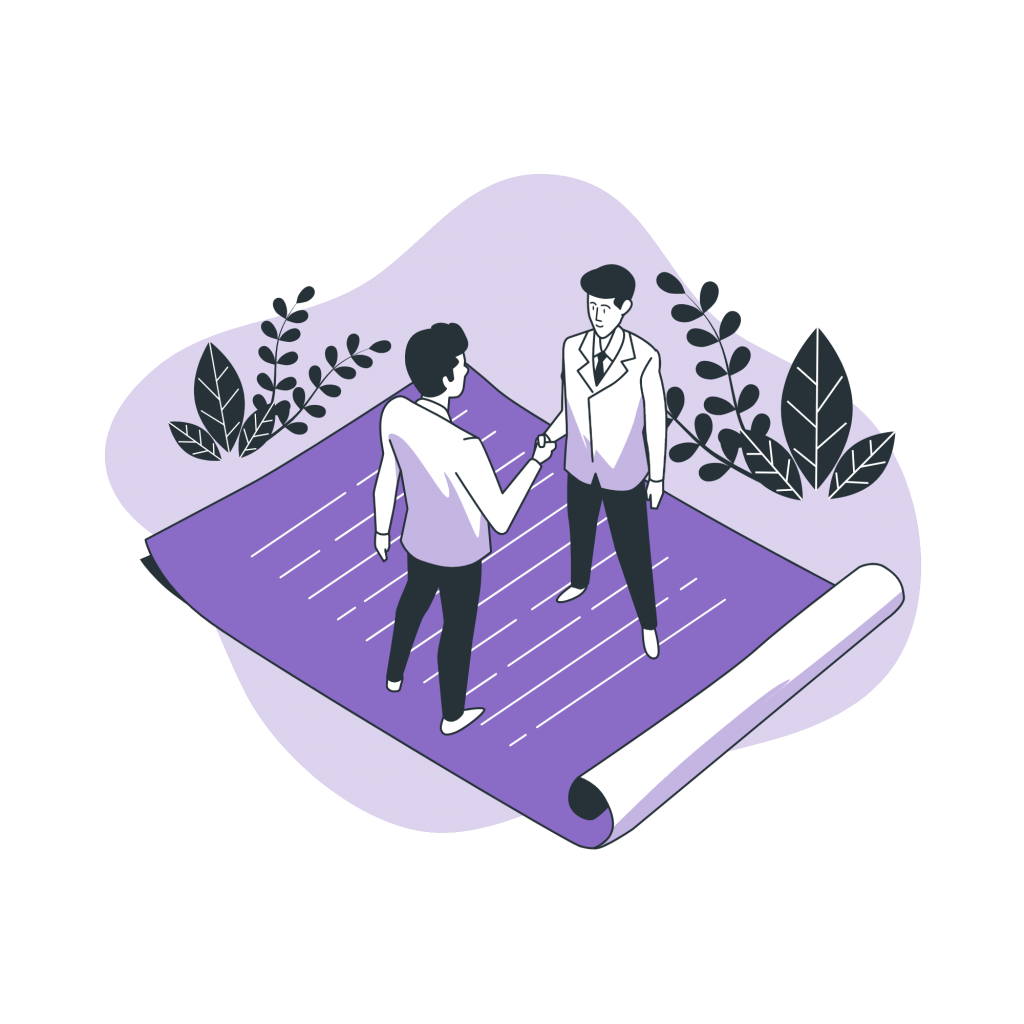 So, If a situation arises where the right amount of supplies are not given or a misunderstanding regarding payment occurs, then you can use the vendor agreement to solve your problems.
Want to know more about vendor agreements and the importance of using one in every business transaction that involves the exchange of goods and services? Then, scroll down right now!

Why You Need Vendor Agreements?
There are so many reasons why you MUST always create vendor agreements!
1. Defines the Business Transaction
A vendor agreement defines an entire business transaction. It lays down all the details, conditions, and rules relating to the exchange of goods and services between two businesses.
This ensures that both the parties – the business owners and the vendors – know everything there is to know about their transaction. It states how the exchange must take place which will help avoid any misunderstanding or conflicts.
2. Increases Efficiency
Since a vendor agreement lays down the guidelines and regulations to be followed during a business transaction, it ensures that there is a consistent and uninterrupted workflow.
This helps avoid errors and confusion, optimizes performance, and increases the efficiency of your business!
3. Outlines Consequences
Have you wondered what happens if fraud is committed by a vendor?
This is where a vendor agreement comes to your rescue. It outlines the consequences in case there is a breach of the agreement and lays down the legal actions you are allowed to take.
Vendor agreements thus help in resolving any disputes and ensure that no foul play is attempted.
Read more: Operating Agreement: What is it & How to Draft One for your LLC?
4. Minimizes Risks
A business transaction always comes with risks attached, especially when it involves other business parties.
Creating a vendor agreement will help you anticipate potential risks in your transactions regarding costs, administration, delivery, etc.
The agreement also considers circumstantial changes or unforeseen occurrences (such as accidents, natural calamities, etc.) that might affect a transaction and makes provisions for such cases so that you and your vendor are prepared for such events.
5. Maintain Business Relationships
A vendor agreement is a highly professional way to deal with a business transaction! Laying down rules, regulations, and conditions for a business exchange ensures smooth functioning and provides for a healthy relationship between the company and the vendor.
The bottom line is, vendor agreements are not just contracts you can use to settle disputes in court, but also a useful document that helps the smooth functioning of your business while maintaining healthy relationships with vendors.
Now that you are aware of how important a vendor agreement is to your business, don't you want to know to create one? Of course, you do!
So what are you waiting for? Jump right in!
Read more: Shareholder's Agreement: What is it & How to Create it?
How to Create a Vendor Agreement? (Steps)
A vendor agreement is a cluster of all things important that you need during a business transaction. So, what are they? Let's find out!
Step 1. Scope of Goods and Services
A vendor agreement should have the detailed descriptions of the goods and services that are to be delivered to you. This includes the type of goods and services, the quality and quantity, how they will be delivered, the prices, and so on.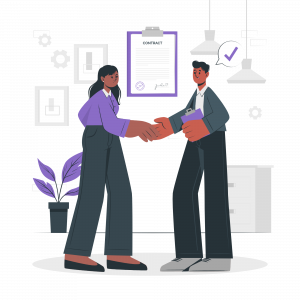 In relation to this, it will also contain the duties and responsibilities to be performed by you and your vendor. The key here is to be specific about every single detail about the transaction in a way that is easy to understand for both parties involved.
Step 2. Terms of Payment
You and your vendor must decide how the prices should be fixed – whether it will be a fixed price or will depend on the market rates. The mutual decision is what you will include in your vendor agreement.
This section should also specify the payment method, the mode of payments, and the time period within which payment should be made.
It is also important to discuss discounts, pre-payment, lump-sum payment, and any room for negotiation, and include it in the document so that there is no confusion in the future regarding payment.
Here, you should also mention how to deal with delays in payment or other payment-related issues as well.
Step 3. Duration and Termination of Contract
Your vendor agreement should mention the term of the agreement or the duration of the contract and also specify the terms of termination. This section describes how long a vendor will provide their services to you and also when and how to terminate the agreement.
Here you decide whether the agreement is for a fixed period or whether it can be renewed after expiry. You should also include a provision for early termination, specify the grounds of termination (due to breach of contract, non-performance, etc.), and the consequences.
This ensures that there is no miscommunication or misaligned expectations!
Read more:
Read more: Purchase Agreement: What is it & How to Create it?
Step 4. Terms of Delivery
Another important section to be included in your vendor agreement is the terms of delivery. This section must mention the time and frequencies of all your deliveries. This ensures that there is fewer delays during delivery, and also makes sure that in case delays arise, then your business does not suffer from it.
Step 5. Flexibility to Change
Your business transactions may be subject to many external factors and unforeseen incidents that may cause or bring changes to the entire agreement.
That is why it is extremely important that you provide space for making minor changes relating to pricing, delivery, payment, etc. This ensures that there is no rigidity during times of change.
Step 6. Confidentiality
This section of your vendor agreement is a crucial one as it deals with the terms of confidentiality and protects all your data from leakage. You can state in your agreement what aspects of your business relationship need to be kept confidential or sign a non-disclosure agreement.
This makes sure that your confidential information is protected and is used according to the terms and conditions of the contract.
Step 7. Indemnity
Indemnity refers to security or protection against a loss. Under this clause, both you and your vendor agree to compensate or make payments for any loss incurred due to breach of contract, negligence, misconduct, omission, or infringement of intellectual property rights.
This section of your vendor agreement mentions how to settle disagreements and also outlines the consequences that you and your vendor must face in case your duties and obligations under the contracts are not fulfilled.
Hey! You made it to the end of this blog! That means you have learned how to create a vendor agreement.
But, we know that you have a hectic schedule and you probably have no time to sit down and create a properly formatted and designed vendor agreement.
Don't worry! We have just the tool for you! Intrigued? Then just scroll down!
Read more:
Read more: Purchase Agreement: What is it & How to Create it?
Create Vendor Agreements & Other Documents Using Bit.ai


Bit.ai is a cloud-based document creation and collaboration platform, designed exclusively to satisfy all your documentation needs. Yes, that includes your vendor agreement as well!
It will help you create, edit, organize, manage, and share your vendor agreements all under one roof and that too in just a matter of few minutes!
Too good to be true? Check out these amazing features of Bit and see for yourself!
1. 70+ Stunning Templates
You no longer have to worry about how your vendor agreements should look like with Bit's 70+ ready-to-use templates at your service! Just pick a template you like and customize it however you want. Moreover, it has auto-formatting which means it automatically formats your entire document so that you don't have to worry about its uniformity.
2. Real-Time Collaboration
Creating vendor agreements means that you need suggestions and feedback from others in your business, including your vendor. With Bit, you can seamlessly collaborate with your team and work together on the same document, chat privately, make inline comments, co-edit, and do so much more to ensure that you do not miss out on any important clauses to be included in your agreement!
3. Smart Workspaces
Your business might be dealing with multiple vendors at a time. This means you might have to create multiple vendor agreements which might be difficult to manage. But not with Bit around! Why? Because it allows you to create multiple workspaces around multiple vendors and manage each agreement super efficiently.
Another great thing about Bit documents is that they are super interactive and support rich integrations! This means that you can add all kinds of media to your vendor agreement, such as excel sheets, charts, graphs and so much more!
Read More: 24 Bit.ai Integrations to Make your Documents Powerful!
5. Smart Editor
When you create a vendor agreement, it needs your full attention because a tiny mistake is all you require to end up in a huge legal battle. That's why Bit is a great tool as it offers a minimalistic and distraction-free editor.
6. Document Sharing
There are so many ways you can share your vendor agreements with Bit. You can export your document by converting it into Docx, PDF, and other formats or use Bit's link-sharing option to share your document with anyone you want. Another way is to use the guest access option that allows you to invite your vendors or other guests into your workspace and give them view-only or comment-only access to documents.
All-in-all Bit is a super awesome tool that has all the perfect features for helping you create a perfect vendor agreement or any other document. Just use Bit and make your life easy!
Conclusion
There you go, folks! This blog has covered everything related to vendor agreements.
As we already mentioned earlier, vendor agreements are more than just a formality, it's a super important document that helps you maintain professional relationships with your vendors and help your business grow.
So do not take them lightly, just make sure that you create each one of them carefully. Good luck!
Further reads:
Refund Policy: What is it and How to Create it!
Profit-Sharing Agreement: What is it & How to Create it?
Consulting Agreement or Contract: What is it & How to Create it?
Founders' Agreement: What is it & How to Create it?
What is a Rental Agreement and How to Create it?
Retainer Agreement: Definition, Advantages, Types & Structure!
Agency Agreement: What is it & How to Create it?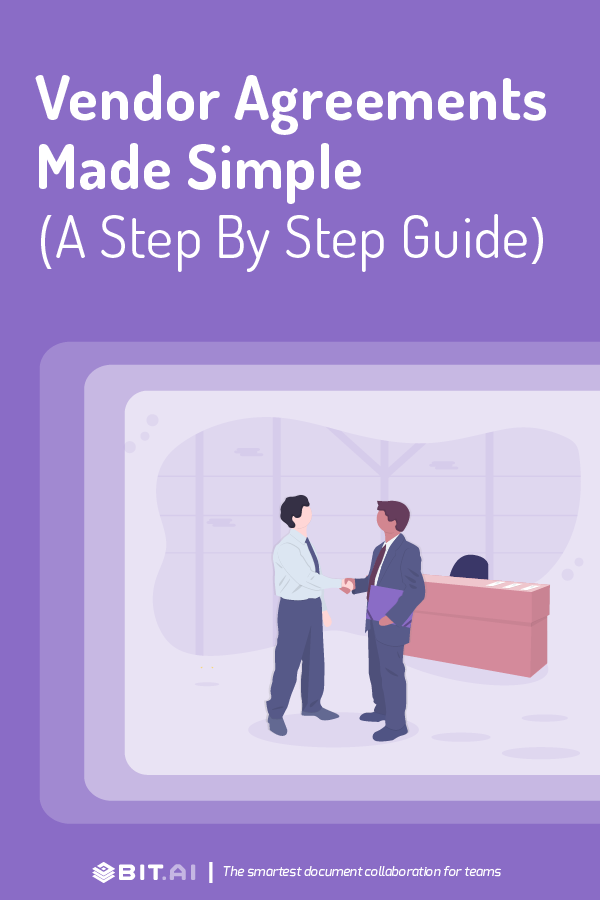 Related posts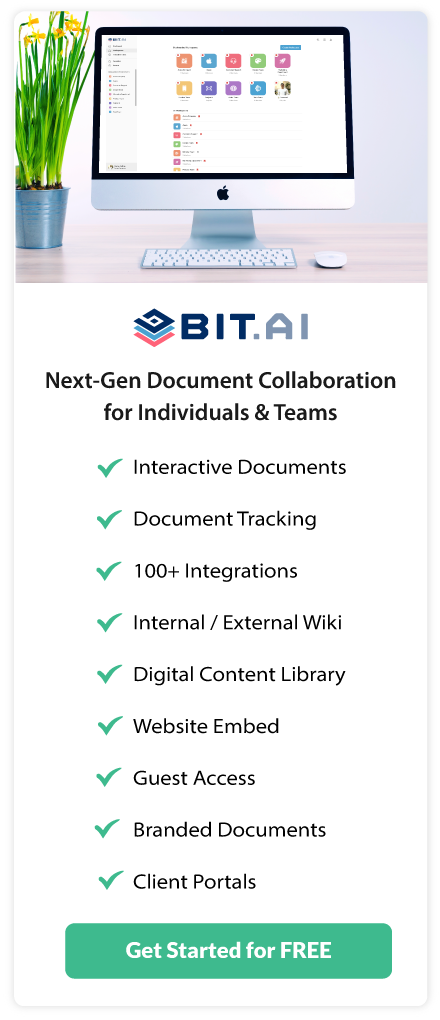 About Bit.ai
Bit.ai is the essential next-gen workplace and document collaboration platform. that helps teams share knowledge by connecting any type of digital content. With this intuitive, cloud-based solution, anyone can work visually and collaborate in real-time while creating internal notes, team projects, knowledge bases, client-facing content, and more.
The smartest online Google Docs and Word alternative, Bit.ai is used in over 100 countries by professionals everywhere, from IT teams creating internal documentation and knowledge bases, to sales and marketing teams sharing client materials and client portals.
👉👉Click Here to Check out Bit.ai.